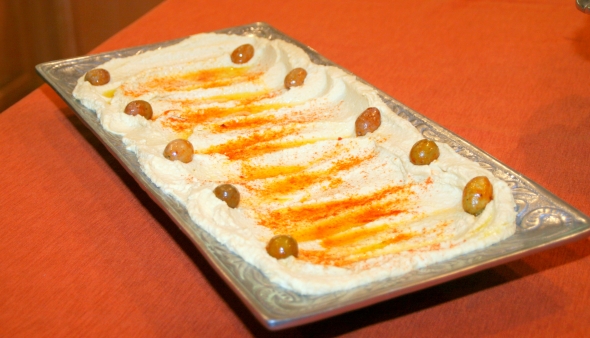 Hummus
This hummus recipe is a Middle Eastern favorite. It is traditionally served as a dip with pita chips and also makes a healthy and delicious spread.
Ingredients
4 fifteen-ounce cans garbanzo beans, drained
¾ cup reserved liquid from garbanzo beans + more if needed
2 cloves garlic
¼ cup fresh lemon juice (about 2 lemons)
½ cup well-stirred tahini
1 teaspoon salt
Garnish
Cayenne pepper
Extra virgin olive oil
Mediterranean olives for garnish
Preparation
In a food processor, pulse garlic until finely minced. Add garbanzo beans, tahini, lemon juice, and salt and blend until combined. If needed, pour reserved liquid slowly from top of food processor while mixing. Scrape down sides and make sure the hummus is mixed well. Add more reserved liquid if needed and blend until preferred consistency. Spread as much hummus on a dish as desired and sprinkle lightly with cayenne pepper. Drizzle with olive oil and garnish with olives.
*Hummus will thicken when refrigerated.
*Hummus may be made one day ahead of time and stored in an airtight container. Add olive oil, cayenne pepper, and olives just before serving. You may also garnish with curly parsley and sliced tomatoes.
*The amount of reserved liquid may vary depending on the brand of canned garbanzo beans used.
Download Recipe (PDF)