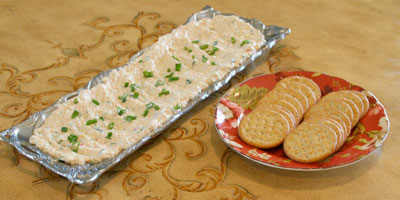 Shrimp Dip
This shrimp dip is a real crowd-pleaser! If you like shrimp you will love this dip.
Ingredients
1 pound medium shrimp, uncooked deveined with the peels on
1 teaspoon salt
1 8oz package cream cheese, softened
½ cup mayonnaise
1 tablespoon Dijon mustard
1 and ¼ teaspoon Tabasco sauce
3 green onions finely chopped + more for garnish (about ¾ cup)
Fresh ground black pepper to taste
Preparation
Fill large pot with water, add salt and bring to a boil. Add shrimp and boil until shrimp turns pink on all sides. About 2-3 minutes. Immediately remove from heat and drain the hot water. Run cold water on top of the shrimp so they can stop cooking and drain again. Peel the shrimp and place in a food processor and pulse until finely chopped.
In a medium bowl, mix together the cream cheese, mayonnaise, mustard, Tabasco sauce and green onions until well combined and smooth. Add in the shrimp and mix well. Add fresh ground pepper to taste. Spread on a platter and garnish with chopped onions, green parts only. Serve with crackers.
*You can prepare the night before. Bring to room temperature before serving.
Download Recipe (PDF)