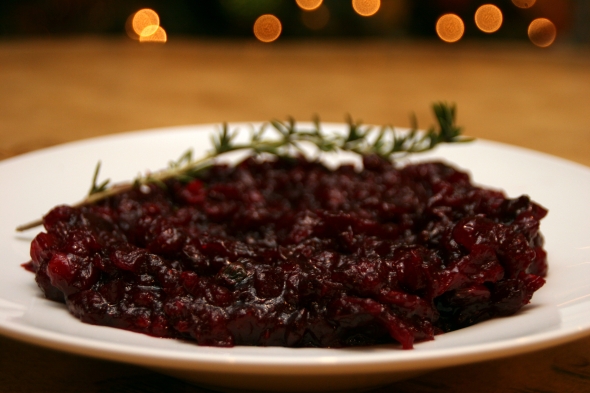 Cabernet Cranberry Sauce
The combination of the roasted cranberries and cabernet wine creates a rich flavor while the orange juice adds the familiar flavor of sweetness and tang that we look for in a good cranberry sauce. Enjoy this easy to make cranberry sauce from scratch with your Thanksgiving Turkey and save the leftovers to spread over buttered toast. It makes a great spread!!
Ingredients
1 ½ pounds fresh cranberries
1 ¾ cups brown sugar (packed)
½ fresh squeezed orange juice (about 1 orange)
¼ cup Cabernet Wine
Fresh ground sea salt
Preparation
Preheat oven to 425 degrees with rack in the center.
Mix cranberries, brown sugar, and orange juice in a large bowl. Lay out cranberry mixture on a large baking sheet. Sprinkle with sea salt. Roast in the oven until cranberries burst and release their juices, about 15 minutes. (Stir occasionally if needed, mixture will form bubbles).
Remove from oven; maintain oven temperature. Bring cabernet wine to a boil in a small sauce pan. Stir into cranberry mixture. Roast until cranberries shrivel and sauce thickens, stirring occasionally, about 10-15 minutes longer. Transfer to a medium bowl, cover and chill until cold.
Makes about 3 cups
Download Recipe (PDF)