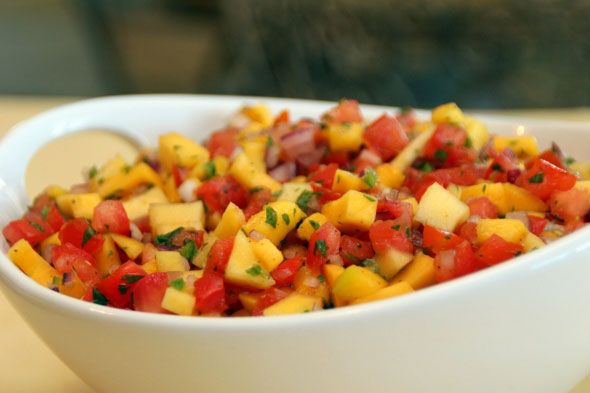 This easy to make salsa will add a refreshing and pleasingly fruity twist to chicken or fish tacos. Try it with grilled salmon, halibut or mahi mahi. They all taste wonderful with this perfect summer time salsa. The unique addition of mangos to the tomatoes, onion, serrano peppers, hint of cilantro and twist of lime doesn't have to stop there. Add in diced avocado, cucumber or jicama and make it your own. I've substituted the tomatoes with yellow and red bell pepper before, it was delicious! You can also use jalapenos instead of serrano peppers for less heat.
Ingredients
4 cups diced mangos (about 3 mangos, peeled and seeded)
4 cups diced tomatoes (about 4 large tomatoes)
2/3 cup finely chopped red onion (about ½ large onion)
3 tablespoons finely minced serrano chile peppers (about 3 large peppers, seeded)
2 tablespoons finely chopped cilantro
2 tablespoons fresh lime juice (about 2 limes)
2 tablespoons extra virgin olive oil
Fresh ground sea salt and black pepper to taste
Preparation
Mix first 7 ingredients in a medium mixing bowl. Generously season with sea salt and freshly ground pepper to taste and serve.
*It's best to use firm ripe tomatoes and mangos for a better texture.
Download Recipe (PDF)