When I feel like having a light, nut and dairy free smoothie in the morning, I turn to this refreshing pineapple and cucumber combo! The consistency is not thick so you can even enjoy it with your breakfast. My taste buds like the mild sweetness of this smoothie, but if you prefer a bit more sweetness, you can add agave nectar to sweeten it right up. You can also add a small amount of fresh ginger root to open up your senses! Some days, I like to eat more greens, so I substitute the banana for an avocado.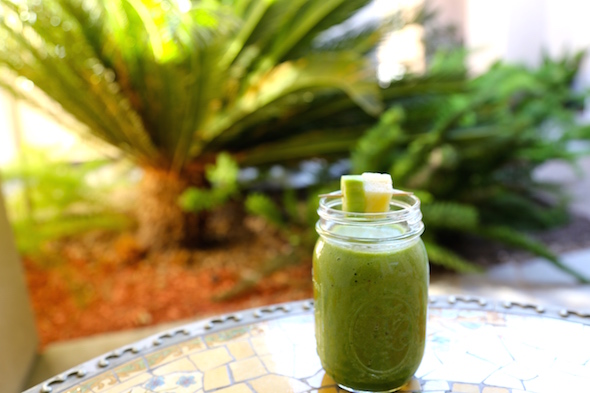 Pineapple Cucumber Refresher Smoothie
This delicious smoothie is cool, light and refreshing!
Ingredients
½ cup Coconut Water
2 cups cubed Pineapple, peeled and cored
1 cup diced Cucumber, thin skinned recommended, if thick skinned then peel
2 ripe Bananas
2 cups Spinach, packed
2 cups Ice Cubes
Agave Nectar to taste (optional)
Preparation
Blend coconut water, pineapple, cucumber, bananas, spinach and ice in a blender until smooth. Add agave nectar for a sweeter taste if preferred.
Serves 2
Download Recipe (PDF)