Are you a skeptic that chicken can be delicious? Well, let me convince you otherwise. Forget about chicken's reputation for being dry. I'm talking about juicy, tender, and tasty chicken. I have a lot of mouthwatering chicken recipes for you to try that will make you a believer. Once you learn the right cooking techniques and flavor combinations, you can create and enjoy marvelous chicken too!
This is the newest recipe on my list. It's comfort food chicken and quick to prepare. The secret ingredient is Dijon mustard. It's very flavorful and acts as a sticking agent on the chicken before it's dipped in an egg wash and rolled in a flour mixture of pungent herbs and spice. The result is The Best Pan-Fried Chicken Ever!
I served it over a bed of arugula and side salad of roasted eggplant, cherry tomatoes, cucumbers, red onion, parsley, balsamic vinegar, evoo, salt and pepper. The chicken and salad are complimentary to each other with rich, sharp, spicy and refreshing flavors. Feel free to serve The Best Pan-Fried Chicken Ever with your own preferred sides. One thing is for sure, you will love this recipe!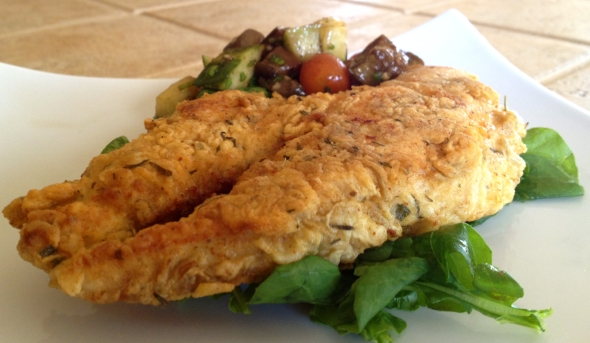 Best Pan Fried Chicken Ever!
This tasty quick to make comfort food chicken dish will knock your socks off. It's the best pan-fried chicken ever!
Ingredients
1 cup All-Purpose Flour
¾ teaspoon Cayenne Pepper
1 ¼ teaspoon dried Thyme
1 ¼ teaspoon dried crushed Rosemary
1 ¼ teaspoon dried crushed Tarragon
2 large Eggs
1 teaspoon Water
½ cup Dijon Mustard
2 lbs. Boneless Skinless Chicken Breasts, halved lengthwise or pounded to quarter inch thickness (should amount to 8 pieces)
Freshly ground Sea Salt and Black Pepper
¼ cup + 2 tablespoons Olive Oil + additional if needed (You may use any other light tasting oil that's good for frying such as Grapeseed or Peanut Oil)
Fresh Arugula for garnish (optional)
Preparation
Mix flour, cayenne pepper, thyme, rosemary and tarragon in a medium sized bowl. Set aside.
Whisk eggs with 1-teaspoon water in a small bowl, set aside.
Generously season both sides of chicken breast pieces with freshly ground sea salt and black pepper. Coat chicken breasts with Dijon mustard on all sides.
Heat large Scan Pan or other large non-stick skillet on medium-high to high heat. Add oil (pan should be coated) and continue to heat until the oil is hot and simmering. Working in batches, one at a time, dip mustard coated chicken breasts into the egg wash then roll into the flour mixture until completely coated. Place in pan and continue process, spacing apart without overcrowding the pan (Do not move while cooking). When bottoms are golden crisp (about 4 to 5 minutes) gently turn pieces over and cook until the other side is golden crisp and chicken pieces are cooked thru, about 8-10 minutes total, lowering heat if necessary. Transfer to a dish with paper towels to drain. Repeat process with remaining chicken breast pieces, adding additional oil if needed.
Serve over bed of arugula and your favorite side.
Serves 4-6