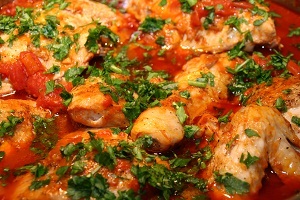 Chicken Cacciatore with Roasted Garlic Mashed Potatoes
This is the perfect Italian comfort food dish. The sauce has a nice balance of spice and sweetness. The roasted garlic mashed potatoes make it even better. Your family will love it!
Ingredients
8 chicken thigh pieces with skins (You may use a whole chicken cut into 8 pieces with skins)
1/2 cup all purpose flour
1 large white onion, chopped (about 1 ½ cups)
1 red bell pepper, seeded and chopped (about 1 cup)
1 yellow bell pepper, seeded and chopped (about 1 cup)
1 orange bell pepper, seeded and chopped (about 1 cup)
3 cloves garlic, finely chopped (about 1 ½ tablespoons)
½ teaspoon red pepper flakes
2 (14.5 oz) cans diced tomatoes in juice
3 oz tomato paste (about ¼ cup)
½ cup dry red wine
1 ½ cups low sodium chicken broth
1 teaspoon honey
1/3 cup Italian parsley, finely chopped
8 tablespoons extra virgin olive oil
salt and pepper
Roasted Garlic Mashed Potatoes- See recipe
Preparation
Heat 3 tablespoons oil in a large sauce pan on medium-high heat. Add onions and bell peppers; lightly sprinkle with salt and saute until soft, about 10-12 minutes. Add garlic and red pepper flakes and saute 2 minutes longer. Stir in tomatoes with their juices, tomato paste, wine, chicken broth, salt and bring to a boil. Cover and simmer until sauce is slightly thickened and reduced, stirring as needed. Add honey and keep at a low simmer. Season to taste with salt.
Pat chicken dry and season both sides with salt and pepper. Place flour in a clean plastic or paper bag. Dredge chicken pieces in flour in batches, shaking off excess. Heat remaining 5 tablespoons oil in a large cast iron or other large pot on medium high-heat. Working in batches, add chicken pieces skins side down and cook until golden brown and crisp on both sides, about 3-4 minutes per side.
Add chicken pieces to sauce, cover and bring the mixture to a medium simmer. Cook until chicken is cooked thru and tender, about 15-20 minutes. Remove from heat and top with chopped parsley. Serve with roasted garlic mashed potatoes.
Makes 6-8 servings
Download Recipe (PDF)