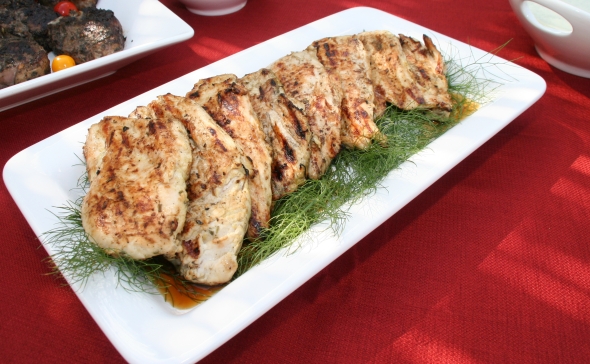 Honey Mustard Herb Grilled Chicken
This flavorful chicken is a perfect combination of sour and sweet flavors with a hint of fresh herbs. The recipe calls for ½ thick pieces of chicken breasts which is important in this recipe because it will really allow the flavors to sink into the chicken.
Ingredients
3 pounds skinless boneless chicken breasts, halved lengthwise or pounded to ½ thickness
1 ½ cups white onion, finely chopped (about 1 onion)
1 cup extra virgin olive oil
½ cup fresh lemon juice
2 tablespoons Dijon mustard
3 tablespoons honey
2 teaspoons salt
1 teaspoon black pepper
1 tablespoon finely chopped fresh oregano
1 teaspoon fresh thyme leaves
1 teaspoon finely chopped fresh rosemary
1 teaspoon finely chopped fresh chives
Preparation
Mix onion, olive oil, lemon juice, salt and pepper in a medium mixing bowl; whisk in mustard and honey; add oregano, thyme, rosemary, and chives. Mix until well combined. Place chicken breast pieces in a medium sized (about 3 qt) Pyrex dish, pour marinade mixture over and turn to coat. Cover and refrigerate overnight.
Prepare barbeque and set to medium heat. Spray with non-stick spray to prevent sticking. Add chicken breast pieces (discard marinade) and grill until golden and cooked thru turning often 8-10 minutes total. Remove from heat and let the chicken rest for 2-3 minutes. Serve immediately.
Serves 4-6
Download Recipe (PDF)