A few months ago I discovered "Label Rouge" chickens. The Label Rouge program began in France in the 1960s, a movement led by Farmers to raise high quality farm chickens as poultry became more industrialized. Lucky we have access to these chickens right here in San Diego. The Farm is called Descanso Valley Ranch and they are available every Saturday at The Rancho San Diego Farmers Market. They are pasture raised, consume a 100% vegan diet, contain no antibiotics or hormones and best of all they taste delicious.
The main reason for their superior flavor is their longer life span. They are firm yet surprisingly tender. You will also notice their distinctive elongated breast and long legs.
When I first purchased this chicken I was instructed that the best way to enjoy it was to roast it whole in an uncovered hot cast iron skillet/pot or roasting pan with a generous salt and pepper seasoning with no oil or butter. I was puzzled, skeptical and curious at the same time. I tried it myself and was in denial about the easy preparation and concerned that the chicken would be dry since I did not marinate it, brine it or use any oil or butter. I was WRONG! The result was a beautiful golden crispy skinned chicken with a juicy tender center. To make it even better, the 6 pound chicken cooked in less than an hour. It was the easiest meal I've ever prepared and since then it's become one of my weekly dinner dishes.
With Thanksgiving around the corner, I decided that instead of Turkey I am roasting 2 of these glorious chickens. My family is not big on Turkey and they mostly look forward to the Prime Rib, Ham and other delicious holiday entrees that I serve so I'm excited to serve these chickens instead.
Recently, I experimented further and tried brining the chicken before roasting. The result was outstanding, even juicier and more flavorful. The only difference is the skin (although still browned and crisp) didn't crisp up as much as the chicken that was not brined. The chicken also produced a lot more drippings that you can use to make gravy or stock with. Here is the link to my Turkey Recipe that has a flavorful brine that you can use. Be sure to significantly cut back on seasoning the chicken with salt before cooking if you use this brine or any other brine.
There are no rules to this recipe. Just follow the cooking steps and feel free to use your own preferred seasonings. For those of you that don't have access to Label Rouge chicken, look for pasture raised, vegetarian and/or grass fed chicken for similar results.
The fall roasted vegetables in this recipe can be roasted at the same time in a separate oven for a complete meal. The combination of the butternut squash, carrots, fennel and onion make a beautiful fall medley of flavors and complimentary addition to the chicken. In the recipe I use a Serrano Chile Honey Balsamic Vinegar, a subtly sweet and light tasting balsamic from The California Olive. They participate in several Farmers Markets throughout San Diego. Visit their website to find the location nearest you. You can also substitute with a different flavored or plain balsamic vinegar, just be sure to use it sparingly as the taste may be very pungent.
You can find Descanso Valley Ranch at the following Farmers Market locations in San Diego…
Saturdays 9am-2pm Rancho San Diego
Tuesdays 2pm-6:30pm Pacific Beach
I hope I've inspired you to start planning a delicious Thanksgiving meal for your families!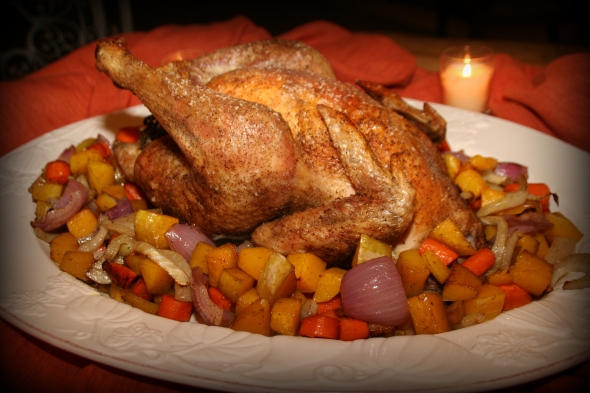 Le Rouge Chicken with Roasted Fall Veggies
There are no rules to this recipe. The simple preparation of the "Label Rouge" Chicken is what's important. You will fall in love and make it over and over!
Ingredients
Le Rouge Chicken
Whole Label Rouge Chicken, giblets removed
Coarse Salt (Kosher or Himalayan recommended)
Freshly ground Black Pepper
Paprika
Dried Thyme
Dried crushed Rosemary
Whole Garlic (optional)
Whole Onion (optional)
Fresh Rosemary Sprigs (optional)
Special Equipment: Large Cast Iron Roasting pan, pot (Dutch oven) or skillet
Brine (Optional, see recipe)
Roasted Fall Veggies (optional, see below)
Butternut Squash, peeled, seeded and cut into ¾ inch cubes
Carrots, peeled and sliced into ½ inch pieces
Red Onion, peeled, halved, quartered, halved again
Fennel Bulb, halved, sliced
Freshly ground Sea Salt
Freshly ground Black Pepper
Extra Virgin Olive Oil
Serrano Chile Honey Balsamic (optional)
Preparation
Put oven rack in the middle to bottom thirds position and place empty cast iron cooking-ware large enough to fit Chicken in oven and set to 450 degrees.
While pan is heating, pat chicken very dry with paper towels. Season cavity with salt and pepper then stuff with garlic, onion and fresh rosemary sprigs. Tie legs with kitchen string if needed. Generously season entire chicken with salt*, pepper, paprika, dried rosemary and dried thyme to your liking. *Cut back the amount of salt if using Brine.
Once oven reaches 450 degrees remove pan from oven (be sure to use cooking gloves) and place the chicken breast side up in the pan (do not cover). Roast in the oven until thermometer inserted in the thickest part of thigh away from the bone reaches 165 degrees. Cooking times will vary depending on weight. (6.5 lb chicken will cook in less than one hour).
Prepare Roasted Fall Veggies: (This can be prepared at the same time in a separate oven.) Place rack in middle position and set to 450 degrees. Place butternut squash, carrots, onion and fennel on a large baking pan. Sprinkle with salt and pepper, drizzle with evoo and serrano chile honey balsamic to taste and toss (do not overcrowd pan). Place in the oven and roast until tender and slightly caramelized, about 30-40 minutes, tossing occasionally.
Place roasted chicken in the center of a large platter and surround with roasted veggies. Serve immediately.
* If using brine, follow instructions for brining on the linked recipe. Rinse and pat chicken dry then continue recipe as follows cutting back on the salt.