The highlight of my summer has been the co-sponsorship of Cooking with Melody in a newly opened Farmers Market in my neighborhood. It's been incredible to have access to fresh produce, delicious food products and too see the great people in my community on a weekly basis. Farmers Markets are a growing trend and located in a number of cities. If you haven't experienced it, this is a recipe that will motivate you to visit!
One of my favorite items to shop for at the market are the hand-made pastas. The flavors are incredible and make my pasta dishes taste really authentic. It's a purchase that I can't resist because let's face it; making hand-made pasta is tedious! The one that I use in this recipe is the Red Bell Pepper Pasta from Close To Home. They specialize in fettuccine and have a number of unique flavors to choose from.
The taste of the pasta itself is amazing. There is no need for a sauce to hide the deliciousness. Instead summer veggies, sun dried tomatoes fresh basil and a little heat from crushed red and aleppo chili peppers add just the right touch. If you are not familiar with aleppo chili pepper you can find it at Williams Sonoma. It's a mildly spiced seasoning with a hint of tanginess. If you don't have it on hand, substitute with four parts sweet paprika and one part cayenne.
What's pasta without a little cheese? I recommend using another Farmers Market goodie, Goat White Cheddar from Spring Hill. Sounds non-traditional, but the cheese is outstanding with this dish. All of the cheeses from Spring Hill are phenomenal. If you don't prefer to use Goat White Cheddar, a good quality parmesan cheese will be just as tasty.
I enjoy meatless dishes on a daily basis but for those of you that are looking to add a protein, the Chicken and Apple Sausage is optional and compliments this recipe perfectly. I used the aidells brand from Costco. It has a smoky flavor that you will love. Feel free to use your own sausage favorite!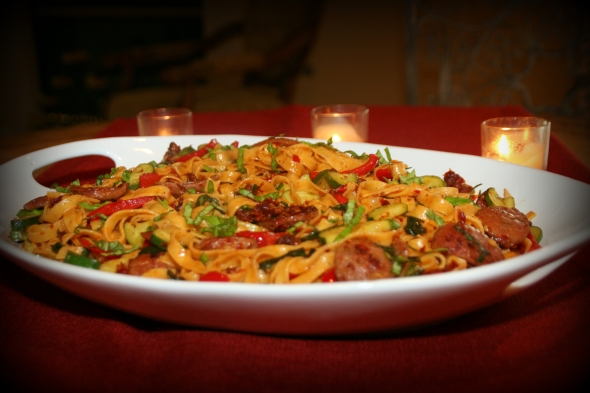 Red Pepper Fettuccine
This simple yet tasty pasta creation of summer veggies and chicken and apple sausage was inspired by the authentic hand- made red bell pepper fettuccine from my local Farmers Market.
Ingredients
3 tablespoons Extra Virgin Olive Oil + additional
4 cups Zucchini, halved then sliced (about 16oz, medium sized zucchini recommended)
4 cups Red Bell Peppers, sliced into 1 ½ to 2 inch strips (about 2 large bell peppers)
4 tablespoons chopped Garlic (about 10 large garlic cloves)
1 teaspoon crushed Red Pepper Flakes
1 cup jarred Sun-Dried Tomatoes in olive oil and herbs, drained and chopped
2 teaspoons crushed Aleppo Chili Pepper
1 cup fresh Basil, chiffonade
Freshly ground Sea Salt and Black Pepper to taste
20 oz. Red Bell Pepper Fettuccine Pasta (2 10 oz. boxes Close To Home Red Bell Pepper Fettuccine Recommended)
Grated or shaved Goat White Cheddar (Spring Hill Recommended) or Parmigiano Reggiano to taste
4 links Chicken & Apple Sausage, sliced diagonally (optional) (aidells brand recommended)
Preparation
Bring large pot of salted water to a boil. Keep on a medium simmer until ready for use. (To cook fettuccine)
Lightly coat a large deep skillet with extra virgin olive oil on medium-high heat. Add sausage and sauté until nicely browned and cooked thru, about 8-10 minutes. Remove from pan and set aside.
Scrape off any brown bits from skillet and wipe down if needed. Add 2 tablespoons extra virgin olive oil and sauté zucchini on medium-high heat until almost cooked thru, about 5 minutes. Set aside atop sausage.
Add 1 tablespoon extra virgin olive oil (if needed) to skillet and sauté red bell peppers until slightly softened, about 5 minutes, add garlic and red bell pepper flakes and sauté until bell peppers are softened, about 3-4 minutes longer. Add sun-dried tomatoes and sauté 1 minute longer. Add 1-teaspoon aleppo pepper and sauté 1 minute longer. Add sausage and zucchini and mix until combined. Add salt and pepper to taste then reduce to low heat.
Bring simmering water back to a boil, and cook fettuccine (uncovered) to your liking, stirring occasionally (About 3-5 minutes if using fresh pasta) Strain then add pasta to skillet. Sprinkle remaining teaspoon aleppo pepper, fresh basil and toss until combined. Add additional salt, pepper and extra virgin olive oil to taste if needed. Remove from heat. Serve with goat white cheddar or parmigiano reggiano cheese.
Serves 6-8
Download Recipe (PDF)