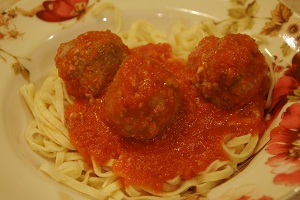 Turkey Meatballs Stuffed with Cheese
This is a healthier alternative to the classic beef meatballs. The surprise cheese in the middle is one your kids will enjoy.
Ingredients
2 ½ pounds ground Turkey
¾ teaspoon salt
¼ teaspoon black pepper
1 teaspoon dried oregano (optional)
1 egg, lightly beaten
2 teaspoons + 2 tablespoons extra virgin olive oil
6 ounces mozzarella cheese, cut into ¾ inch cubes
Tomato Sauce
4 cans diced tomatoes (14.5 ounce cans)
½ white onion, chopped (about 1 cup)
1 red bell pepper, seeded and chopped (about 1 cup)
2 garlic, chopped
½ teaspoon salt
2 tablespoons extra virgin olive oil
Preparation
To prepare meatballs, combine ground turkey, ¾ teaspoon salt, pepper, oregano, egg, and 2 teaspoons olive oil in a large mixing bowl. To form stuffed meatballs, create a small patty using your hands; place a cube of cheese in the middle, then form into 1 ½ inch balls. Mixture should create about 20 meatballs. Set aside.
Heat 2 tablespoons olive oil in a large cast iron or other large pot on medium high-heat. Add onions, red bell peppers, and salt and saute until softened, about 5-7 minutes. Add garlic and saute another 2 minutes. Add tomatoes and bring mixture to a simmer. Remove from heat and blend with a hand blender. Place tomato sauce mixture back on a low simmer.
Heat 2 tablespoon olive oil in large scan pan or other non-stick large pan on medium-high heat. Add meatballs and cook until lightly browned on all sides, about 10-12 minutes. Transfer meatballs to pot with tomato sauce and gently simmer until meatballs are cooked thru, about 10 minutes.
Serve with your choice of noodles
Download Recipe (PDF)