I may be one of the few people that didn't grow up eating meatloaf! The first time I made it, I thought "what a genius idea!" Throw a bunch of ingredients in a bowl, form a loaf, bake in the oven and walla! A hearty and tasty meal enough to feed any unexpected visitors with plenty of leftovers for the next day.
I've become a huge fan of ground turkey. I always have some stored in my freezer, which comes in handy for my last minute unplanned meals. Ground turkey works especially well for meatloaf. It is much lighter and moister than a typical beef meatloaf; you will like it so much that you may never go back! All of the ingredients count to make the end result delicious.You will have to put a little love into chopping the fresh basil, onions, carrots and garlic. All well worth the trouble. And for the breadcrumbs, I made my own using a loaf of rosemary bread (freshly baked at Costco). You can use any other white crusty bread or store bought breadcrumbs if you must! The basting requires a little barbeque sauce; I used a bottle that my husband brought home from Kansas City! You can use your own favorite; if it has a spicy kick it will taste even better!
Don't be intimated about forming the meatloaves. This recipe instructs you to form two of them. I find it easier to form two rather than one for three reasons. One, it's easier to form smaller loaves, two, it ensures that the loaves will be cooked thru in one hour for a shorter cooking time and three, it leaves one extra pretty untouched loaf for the next day if you haven't put your knife thru it. To form the loaves, divide the mixture down the center with your hand. Grab a hold of the first half with two hands and place on one side of the tray. Form the loaf on the tray then repeat the same process to form the second loaf.
Once the meatloaf is ready, let it rest for a few minutes before slicing. This will prevent the loaf from falling apart. Serve it warm with a side of potatoes and salad and use leftovers for meatloaf sandwiches the following day. Cheers to comfort food!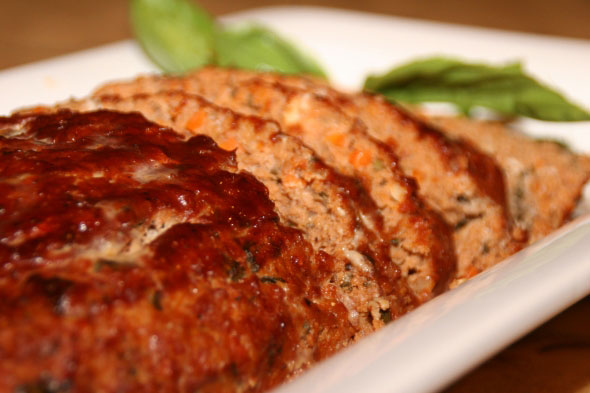 Turkey Meatloaf
Two moist and tasty turkey meatloaves are baked side by side for a perfect family night dinner. Serve warm with your favorite sides and use leftovers for meatloaf sandwiches the next day!
Ingredients
3 pounds lean ground Turkey Meat
1 ½ cups finely chopped White Onion (about 1 medium onion)
1 cup finely diced Carrots (about 2 medium carrots)
2 tablespoons finely minced Garlic (about 4 large garlic cloves)
1 ½ cups Bread Crumbs (preferably homemade using Rosemary Bread)
1 cup chopped fresh Basil
1 cup finely grated Parmesan Cheese
2 large Eggs, lightly beaten
1 (15 oz) can Tomato Sauce
2 teaspoons Worcestershire Sauce
5 tablespoons Extra Virgin Olive Oil + additional
2 teaspoons Salt + additional
1½ teaspoons Black Pepper
¼ cup Ketchup
¼ cup Barbeque Sauce
Preparation
Preheat oven to 350 degrees with the rack in the center.
Line a large baking tray with foil and lightly brush with oil. Set aside.
Heat 2-3 tablespoons extra virgin olive oil in a large non-stick skillet over medium-high heat. Add onions and carrots, sprinkle lightly with salt and sauté until very softened, about 7-10 minutes. Add garlic and sauté a few minutes longer. Remove from heat and cool completely.
Combine ground turkey, breadcrumbs, basil, parmesan cheese, eggs, tomato sauce, worcestershire sauce, 2 tablespoons olive oil, 2 teaspoons salt, black pepper, and cooled onion mixture in a large mixing bowl. Divide mixture down the center and form two 10 x 5 x 2 inch rectangle loaves side by side (spaced apart) on oiled baking pan.
Mix ketchup and barbeque sauce in a small bowl. Generously brush tops and all sides of loaves with sauce. Bake for 1 hour, or until juices run clear (internal temp should reach 160 degrees). (A pan of hot water under the meatloaf will keep the top from cracking.) Let meatloaves rest for about 5 minutes before serving.
Serves 8-10
*To make bread crumbs. Remove crusts from a firm crusted white loaf of bread (about ½ loaf). Cube and pulse in a food processor until bread crumbs form.
Download Recipe (PDF)