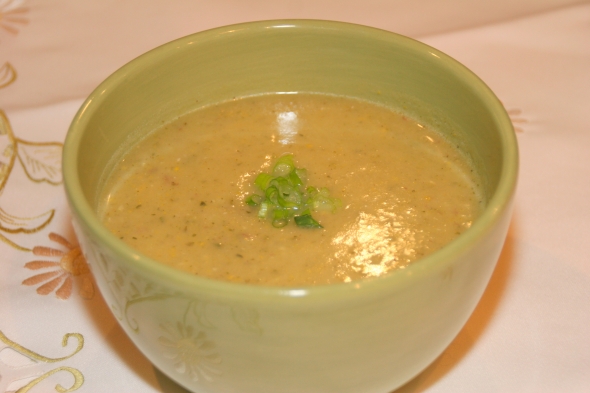 Summer Squash and Potato Soup
This light, flavorful, and healthy soup is one that your family will enjoy, especially in the summer when squash is in season.
Ingredients
4 cups Italian zucchini, halved then thinly sliced
2 cups yellow crookneck squash, halved then thinly sliced
¾ cup Leeks, white and light green parts, thoroughly cleaned and finely chopped
1 ½ cups red potatoes, diced
1 tablespoons garlic, finely chopped
4 cups, low sodium chicken broth
3 tablespoons extra virgin olive oil
Salt and pepper to taste
Finely chopped fresh chives for garnish
Preparation
Heat 3 tablespoons olive oil in a large cast iron or other large pot over medium-high heat. Add onions and saute until softened, about 2 minutes. Add the garlic and saute 1 minute longer. Add the zucchini and yellow crookneck squash and saute until softened, about 10 minutes longer. Add the broth and potatoes and bring to boil, lower heat to a simmer and cook until squash and potatoes are tender. Remove from heat and puree with a hand held blender until smooth. Season to taste with salt and pepper. Gently bring soup back to a simmer. Ladle the soup into bowls and garnish with fresh chives. Serve immediately.
Makes 4 Servings
Download Recipe (PDF)