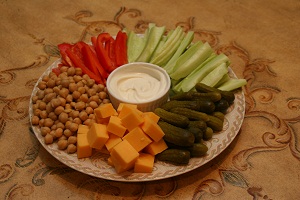 Norman's Veggie Snack Platter with Pickles and Cheese
This is a healthy platter for kids to snack on. Have your kids choose some of the vegetables in the platter and try to incorporate some new veggies for them to try. We included cheese for dairy, and beans for a healthy protein. Norman prefers to eat Ranch with his vegetables. For a healthier choice we mixed a small amount of Ranch with a large amount of yogurt. He was happy with the taste. He also loved to dip the cheese, pickles, and chick peas in the dip. There are no specific rules for this recipe. Create the platter as you like.
Ingredients
Cucumbers, sliced
Red bell peppers, seeded and sliced
Mini Pickles, drained
Cheddar cheese, cubed
Chickpeas
Yogurt Ranch Dip
1/2 cup plain yogurt
1 tablespoon Ranch Dressing
Preparation
Arrange desired amount of vegetables, beans, cheese, and pickles on a platter.
Combine yogurt and Ranch Dressing in a small bowl.
Serve veggie platter with the dip.
Download Recipe (PDF)