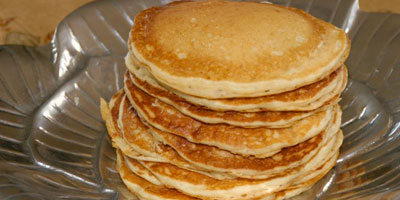 Banana Pancakes
These melt-in-your-mouth pancakes will be a hit for any breakfast or brunch occasion! They are so light, airy, and delicious that you may skip the syrup!
Ingredients
1 cup flour
2 tablespoons yellow cornmeal
2 tablespoons light brown sugar
1 teaspoon baking powder
1 teaspoon baking soda
½ teaspoon salt
1 cup whole or 2% milk
1 large egg
1 cup plain whole-milk yogurt
1 ½ tablespoons unsalted butter, melted
2 ripe bananas, thinly sliced
Powdered sugar and sliced fresh strawberries optional
Preparation
Mix the flour, cornmeal, brown sugar, baking powder, baking soda, and salt in a large bowl and set aside. Whisk milk, yogurt and egg in an electric mixer or whisk by hand in a separate medium sized bowl. Add dry ingredients and mix until just blended. Gently stir in the melted butter.
Heat large scan pan or nonstick skillet over medium heat. Drop 1/3 cupfuls for each pancake onto the griddle, spacing apart. As pancakes begin to form bubbles quickly place sliced bananas on the pancakes. You can place as many as you prefer. Cook pancakes until light brown on the bottom and bubbles form on top. Gently turn pancakes over and cook until bottoms are brown and pancakes are firm. Transfer to plates and sprinkle with powdered sugar, sliced fresh strawberries and warm maple syrup.
*Pancake batter can be prepared the night before. If entertaining cook pancakes last and keep in warm oven of 200 degrees before serving.
Makes 4 servings
Download Recipe (PDF)