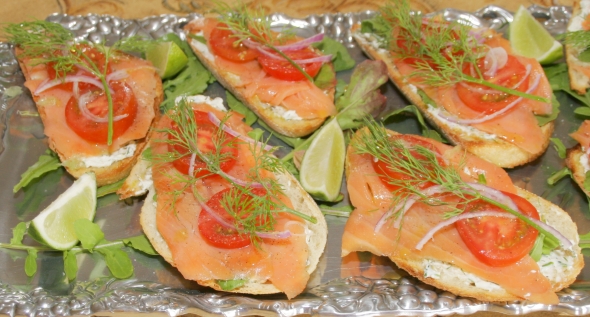 Lox Toasts
Lox (cured salmon) can be found packaged near the seafood section at your local grocery store. My favorite type of lox is Nova Scotia. There are no definite rules to this recipe. The measurements may vary depending on the different sized toasts and the amounts of the ingredients that you prefer. This combination is delicious.
Ingredients
8 thinly sliced rosemary bread, toasted
8 oz sliced Lox (Preferably Nova Scotia)
8 oz cream cheese, softened
3 teaspoons capers, drained
¼ cup red onion, thinly sliced
2 medium firm tomatoes, thinly sliced
8 dill sprigs
16 arugula leaves + additional for garnish
1 lime + additional limes wedges for garnish
Fresh ground black pepper
Extra virgin olive oil
Preparation
Mix capers and cream cheese in a small mixing bowl. Spread one side of toasts with desired amount of cream cheese. In the following order add 2 arugula leaves, 1-2 slices of lox, 2 slices of tomato, 2 slices onion, and 1 dill sprig to each toast. Sprinkle with fresh ground pepper, twist of lime and lightly drizzle with olive oil. Arrange on a platter and garnish with lime wedges and additional arugula leaves. Serve immediately.
Download Recipe (PDF)

Serves 4