I will be sharing a Miso Black Cod with Mushroom and Currant Quinoa and Baby Bok Choy recipe on my next Fox 5 segment. It's a simple yet sophisticated dinner that you can prepare for your Valentine this year that will make them feel like they are dining at a 5 star restaurant!
I created this refreshing starter that you can serve in martini glasses for a fun presentation. There are no set rules for this recipe. You can simply make it for two or even serve it for a large crowd.
Beets and mangoes are in season and make a beautiful and tasty color combo.
To tie in the flavors with the cod, the dressing is made with fresh ginger and honey to compliment the sweet and salty Asian inspired tastes.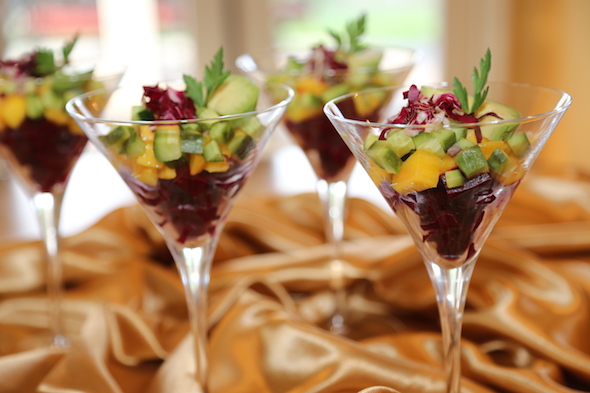 Beet and Mango Salad with Ginger Lime Dressing
There are no set rules for this salad. Simply use the amounts of each ingredient to your liking and serve in martini glasses for a fun presentation.
Ingredients
Roasted Beets, cooled peeled and diced
Mangoes, peeled, cored and diced
Cucumbers, diced (English or Persian recommended)
Red Onion, finely chopped
Avocado, sliced or diced
Garnish
Radicchio, thinly sliced (optional)
Parsley or Cilantro sprigs (optional)
Ginger Lime Dressing
½ cup Extra Virgin Olive Oil
4 tablespoons fresh Lime juice
1 ½ teaspoons chopped Ginger
1 tablespoon raw Honey
¼ teaspoon Sea Salt
Fresh ground Black Pepper to taste
Special Equipment
Martini Glasses (optional)
Powerful Blender

Preparation
Fill martini glasses with ingredients to taste in the following order: beets, mangos, cucumbers. Top with avocado slices and garnish with radicchio and parsley sprigs.
Prepare Dressing: Pulse olive oil, lime juice, ginger, honey and salt in a blender until smooth. Add black pepper to taste. Double amount if needed.
Spoon desired amount over salad in each martini and serve.
*To prepare beets, scrub, drizzle with olive oil, wrap loosely in foil and roast in a baking pan until tender.
Download Recipe (PDF)