Crunchy, juicy and sour. When I crave this combination I turn to cucumber salad, a Middle Eastern staple dish that I grew up eating. My mom would frequently make a large bowl that wouldn't last very long at the dinner table. One serving, two servings, three servings and…"yes, more please". The best part was drinking the last of the juice right out of the bowl.
There are different versions of this salad. The main ingredients are cucumbers, tomatoes and parsley tossed in a simple olive oil and lemon dressing. This version has garbanzo beans with a touch of red onion. The garbanzo beans add a filling protein and make a nice addition. I sometimes add chopped boiled beets; an earthy flavored favorite of mine that brightens the salad to a deep red color. Bell peppers also compliment this salad well, I recommend using green or red.
Get your vegetable chopping knife out for this one. This salad requires that the veggies be chopped small so you enjoy all of the flavors in every bite. If you don't want to chop all of the 4lbs of cucumbers, 3 will do. I suggest spooning the salad in individual bowls and serving the dressing on the side to avoid the salad from getting soft and retaining water. Stir the dressing well and lightly drizzle or pour dressing into a small bottle and shake before serving. The dressing is pungent with strong flavors of sumac and dried crushed mint. If you are entertaining or feeding a large group, add the dressing and toss just before serving. Enjoy!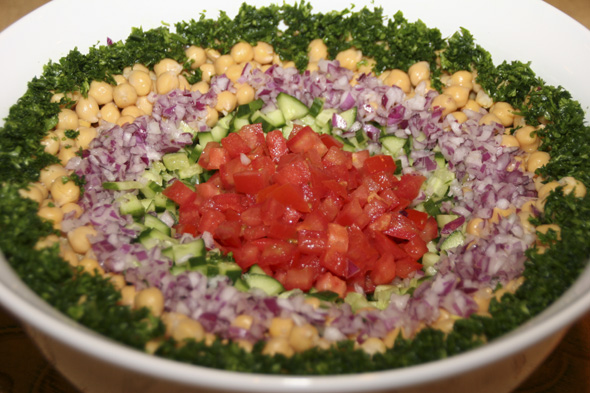 Cucumber Salad
Enjoy this crunchy, juicy, sour bowl of goodness any time of day. This Middle Eastern staple salad is refreshing and healthy. Do make this generous portion; you will be coming back for seconds!
Ingredients
12 cups thin skinned Cucumbers (ex/Persian, Armenian), finely diced (about 4lbs)
4 cups finely diced firm Roma Tomatoes (about 1 ½ lbs.)
1 cup very finely chopped Red onion (about 1 onion)
2 14oz cans Garbanzo Beans, rinsed and drained
1 cup very finely chopped Curly Parsley (about 2 bunches)
Dressing
2 teaspoons Dried Crushed Mint
2 teaspoons Sumac
2 teaspoons Salt
1 teaspoon Black Pepper
½ cup Fresh Lemon Juice (about 3-4 lemons)
1 tablespoon Red Wine Vinegar
½ cup Extra Virgin Olive Oil
Preparation
Mix cucumbers, tomatoes, onions, garbanzo beans and parsley in a large bowl.
Mix dried mint, sumac, salt, black pepper, lemon juice and red wine vinegar in a small mixing bowl, slowly whisk in olive oil.
Spoon cucumber salad in individual bowls and drizzle with desired amount of dressing.
Serves 8-10
*Mix salad dressing well each time before serving. Store in small bottle if preferred, shake well before using.
*If serving for a large group you may add dressing to cucumber salad and mix just before serving. Serve with a slotted spoon.
Download Recipe (PDF)