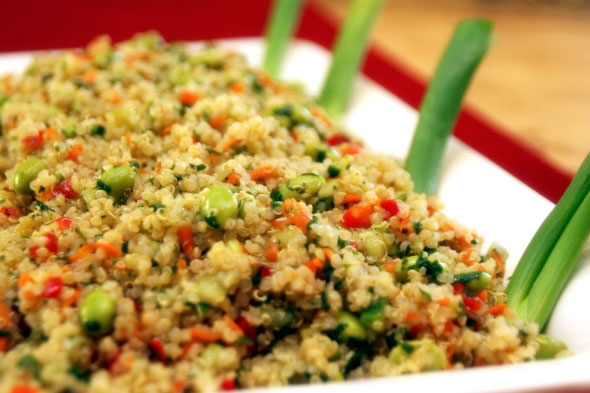 Yes, another Quinoa recipe post! I absolutely love Quinoa and every time I eat it I wonder where it's been my whole life! Not only is it healthy and easy to prepare. It has come in handy for me time and time again when I'm craving a meatless meal that is nutritious and filling. Whether I am enjoying quinoa for dinner, a side dish or as a starter salad, it continues to please my palate. There are many different ingredient combinations that taste great with Quinoa, this is newest invention!
Garlic gives this colorful and tasty salad an unexpected kick! It is protein packed with Edamame (soybeans) and a number of crisp veggies, fresh herbs and an Asian inspired dressing using Toasted Sesame Oil and a touch of Rice Vinegar. The recipe calls for Grapeseed Oil which I've been using more as a neutral flavored option. If you don't have it on hand you can substitute with Light Olive Oil. The limes in my backyard have been plentiful (best tasting limes I've ever had) and compliment this salad perfectly.
I recently bought a bag of Red Quinoa and can't wait to experiment with it. More recipes coming soon!
Quinoa Edamame Salad
Garlic gives this protein packed flavor intensive quinoa edamame salad a kick! Serve as a side or enjoy as a light meal any time of day.
Ingredients
5 cups cooked Quinoa, cooled
1 cup shelled Edamame (soybeans)
1 cup Shredded Carrot (about 2-3 carrots)
1 cup Red Bell Pepper, very finely chopped (about 1 bell pepper)
2 cups Persian or English Cucumber, finely diced
2 tablespoons Scallions, finely chopped (white and green parts)
1 teaspoon Garlic, finely minced (about 1 large clove)
1 cup finely chopped Italian Parsley, packed
2 tablespoons finely chopped Cilantro, packed
¾ cup Grapeseed Oil
2 teaspoons Rice Vinegar (unseasoned)
3 teaspoons Toasted Sesame Oil
¼ cup + 2 tablespoons fresh Lime Juice, or to taste
2 ½ teaspoons Salt, or to taste
1 ¼ teaspoon Black Pepper, or to taste
Preparation
Combine quinoa, edamame, carrot, red bell pepper, cucumber, scallions, garlic, parsley, and cilantro in a large mixing bowl. Add grapeseed oil, rice vinegar, toasted sesame oil, lime juice, salt and pepper, toss and serve.
Serves 4-6
*1 ½ cups uncooked Quinoa yields to about 6 cups cooked
*Shred carrots in a food processor using shredded disk for best results.
Download Recipe (PDF)