Time to use summer fruits and veggies! I love and grow several eggplant varieties. This recipe requires Chinese Eggplant. Some grocery stores may have a different name for this type of eggplant. Look for the medium sized, narrow ones that are almost black in color.
I serve this salad on a platter because it makes a nice presentation and it keeps the eggplants from getting mashed. The lightly seasoned roasted eggplant slices are laid in a spiral fashion. The center is topped with crunchy sweet bell peppers, thinly sliced onions, grape tomatoes and soft mozzarella cheese; all tossed in with a simple balsamic vinaigrette. The dressing soaks thru and flavors all of the ingredients. Last but not least, this beautiful appetizer platter is topped with a handful of chopped fresh basil.
Start in the center and work your way in to get all of the delicious veggies on your plate. For a complete meal, serve with thick rustic bread slices.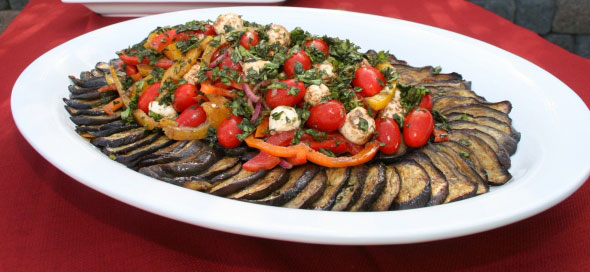 Eggplant Salad Platter
Tasty eggplant, crunchy sweet bell peppers, soft mozzarella cheese, fresh basil and a simple balsamic vinaigrette come together to make a beautiful centerpiece appetizer platter. Enjoy as a salad or serve with thick rustic bread.
Ingredients
8 medium sized Chinese Eggplants, sliced diagonally into ¼ inch thick slices (about 4 pounds)
1 pint firm Grape Tomatoes, rinsed
1 large Red Bell Pepper, seeded, halved, then sliced into ¼ inch thick long strips
1 large Orange Bell Pepper, seeded, halved, then sliced into ¼ inch thick long strips
1 large Yellow Bell Pepper, seeded, halved, then sliced into ¼ inch thick long strips
¼ Red Onion, thinly sliced into strips (about ½ cup)
½ to ¾ pound Fresh Mozzarella Ciliegine Style (Cherry Size Mozzarella Balls), drained
½ cup (packed) fresh Basil, finely chopped
½ cup Extra Virgin Olive Oil + additional for brushing
¼ cup Balsamic Vinegar
Sea Salt and Fresh Ground Black Pepper to taste
Cayenne Pepper to taste
Preparation
Place rack in upper thirds of oven and set to broil.
Spray large baking tray with non-stick spray. In batches, place eggplant slices side by side. Lightly sprinkle with sea salt, cayenne pepper and lightly brush with olive oil on both sides. Broil for 10-12 minutes total, turning once halfway thru. (Eggplant should be lightly browned and cooked). Repeat process with remaining eggplant slices. Set aside.
Place bell peppers, onions, tomatoes, and mozzarella cheese in a medium sized bowl. Add ½ cup olive oil, balsamic vinegar, generously season with freshly ground sea salt and black pepper to taste. Gently toss. Set aside.
Arrange eggplant slices on a large oval or round platter, starting on the edge, slightly overlapping around the platter spiraling in. Use larger slices for edges, saving the smaller slices for the center. Spoon bell pepper mixture in the center of the platter. Drizzle remaining dressing liquid on outer eggplant slices and all over platter. Sprinkle entire platter with chopped basil. Cover and refrigerate 1-2 hours before serving.
Serves 6-8
*Use 2 large baking trays to alternate and speed eggplant cooking process.
*Eggplant slices may be prepared on the BBQ. Sprinkle with salt, pepper and cayenne pepper, place on the grill and brush with olive oil while grilling, turning often.
Download Recipe (PDF)