In addition to enjoying all of my homegrown produce, I am absolutely in love with the Farmers Market this summer. Every weekend I look forward to what's available. I'm always in search for new finds as well as my regular must- haves. It's been a perfect balance because even though I grow a large variety of fruits and veggies it's on a much smaller scale than what the local farmers offer. Some of which grow better in other areas.
One of my favorite finds at the market are the amazing strawberries. They grow best near the coast, and the ones I prefer are from Oceanside, California. They are sweet, juicy and I can never resist leaving without a bunch! Along with eating them on their own or occasionally dipping them into peanut butter for a snack, I love tossing them in a salad. They add a pleasant sweetness that will leave you refreshed.
This combination includes several ingredients that are usually available at the market such as the mixed greens, spinach, onions, avocados, cucumbers and strawberries. Feel free to substitute any ingredients with your own finds or preferences.
One of my must- haves are the blood oranges. I buy them whenever they are available and plan on planting my own blood orange tree very soon. Their deep citrus flavor makes a light and tasty salad dressing. If blood oranges are not available, try another type of juicy orange. The best part is the simplicity of the dressing that allows you to enjoy the flavors of the salad. I sometimes add grilled chicken or salmon for a more filling meal; makes a perfect lunch or light dinner!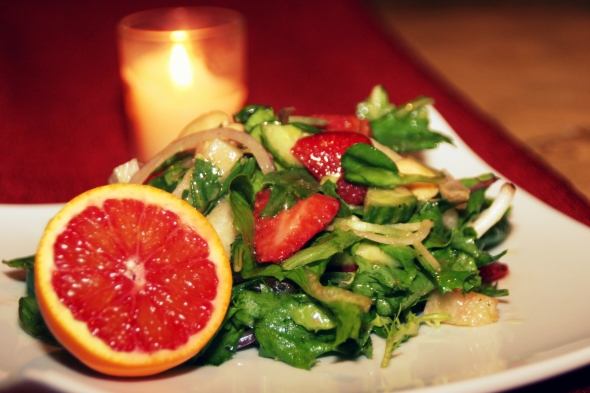 Farmers Market Salad with Blood Orange Dressing
Want to know what to do with the delicious and incredibly sweet summer strawberries that you can find at your local Farmers Market? Try this combination or add in your own Farmers Market finds and toss with homemade Blood Orange Dressing.
Ingredients
4 large handfuls Baby Mixed Greens
1 large handful Baby Spinach
2 ounces Sunflower Sprouts, halved
½ cup very thinly sliced Red Onion (about ¼ onion)
2 cups Cucumbers (halved then thinly sliced, English or Persian Cucumbers recommended)
2 cups Jicama (peeled, halved then sliced into ¼ inch thick, 1½-inch long strips)
2 cups Strawberries (tops removed then sliced vertically)
2 large firm ripe Avocados, diced
Blood Orange Dressing
¾ cup Extra Virgin Olive Oil
¾ cup fresh Blood Orange Juice
2 tablespoons White Balsamic Vinegar
Freshly ground Sea Salt and Black Pepper to taste

Preparation
Toss mixed greens, spinach, sprouts, onion, cucumbers and strawberries in a large salad bowl. Add diced avocado and gently toss.
Combine blood orange juice and white balsamic vinegar in a small bowl. Whisk in extra virgin olive oil and generously season with sea salt and black pepper to taste.
Toss salad with desired amount of dressing and serve.
Serves 4-6
Download Recipe (PDF)