I was out of town for the first few weeks of September and was in a slight panic that I was going to miss out on the ripening black figs on my tree. Green figs are good but black figs are my weakness. They are little candy tasting delights. Have you ever picked a ripened black fig on a hot day? The insides are warm, glossy and taste like jam!
A gopher destroyed our Green Fig Tree.
At least they were smart enough to stay away from our Black Fig Tree. Sigh…
I haven't shared the news about the Green Fig Tree with too many of my relatives. They may cry.
As my garden is starting to slowly dry out, I am saddened that the summer growing season is ending and appreciating every little fruit/veggie that I pick. Along with the delicious figs I have plenty of eggplant. Especially the black beauties, they harvested a little later than usual this year!
The grilled eggplant and fig combination in this salad are both filling and satisfying. The juicy grape tomatoes, salty feta cheese, crunchy toasted walnuts, and touch of red onion make it that much better and to top it off the balsamic honey vinaigrette heightens the flavors to a unique perfection.
If you don't have a grill pan, you can use a barbeque grill instead. The grill pan is convenient for small batches of grilling without the hassle of turning on the barbeque grill. My cast iron Le Creuset Grill Pan heats up in minutes, sears food perfectly, doesn't require much oil, and makes pretty grill marks. If you don't have one, add it to your wish list. You will love it!
I suggest serving the salad on a platter instead of a salad bowl. The grilled eggplant and figs are delicate and should be placed on top of the greens instead of mixing them in. For a complete meal, top the salad with grilled chicken breast. Bon Appétit!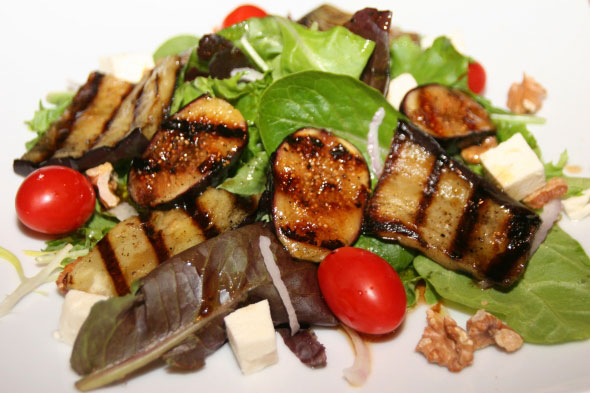 Grilled Fig and Eggplant Salad with Balsamic Honey Vinaigrette
This isn't your ordinary every day salad! The flavors of the grilled eggplant and black figs are pleasingly heightened with a mildly sweet and tart tasting Balsamic Honey Vinaigrette.
Ingredients
4 large handfuls Baby Mixed Greens
1 cup Grape Tomatoes (about 5 ounces)
½ cup thinly sliced Red Onion (about ¼ onion)
½ cup roughly chopped Walnuts, toasted
3 ounces Greek or French Feta Cheese, diced (about ¾ cup)
8 small fresh Black Figs, stems removed, halved
16 3x2 inch Eggplant slices about 1 centimeter thick (about ½ large eggplant)
Extra Virgin Olive Oil for brushing
Freshly Ground Sea Salt and Black Pepper to taste
Balsamic Honey Vinaigrette
1 tablespoon White Wine Vinegar
1 tablespoon Red Wine Vinegar
1 teaspoon Balsamic Vinegar
2 tablespoons Honey
½ cup Extra Virgin Olive Oil
Freshly Ground Sea Salt and Black Pepper to taste
Preparation
Toss mixed greens, tomatoes, onion, walnuts and feta cheese in a medium to large sized platter.
Heat a grill pan to medium-high heat. Place eggplant slices on grill, sprinkle with salt and pepper, brush with olive oil, turn slices over and repeat with the other side. Grill eggplant until tender and grill marks have formed, about 3-5 minutes. Grill in batches if needed. Transfer to a dish, set aside.
Place figs, cut side down on grill pan for 2-3 minutes until grill marks have formed (be careful not to burn, lower heat if necessary), gently turn fig halves over, lightly brush tops with olive oil and grill a few minutes longer until figs appear slightly tender and glossy (do not over cook). Transfer to a dish, set aside.
Arrange eggplant slices and figs on top of salad mixture as desired.
Prepare Balsamic Honey Vinaigrette: Mix extra virgin olive oil, red, white and balsamic vinegars in a small mixing bowl. Whisk in honey until well incorporated. Season to taste with freshly ground sea salt and black pepper.
Drizzle desired amount of Balsamic Honey Vinaigrette over salad and serve.
Serves 4
* Barbeque grill may be used for grilling eggplant and figs. Spray with non-stick cooking spray to prevent sticking.
*Small Japanese or Chinese Eggplant may be used and sliced into strips.
Download Recipe (PDF)