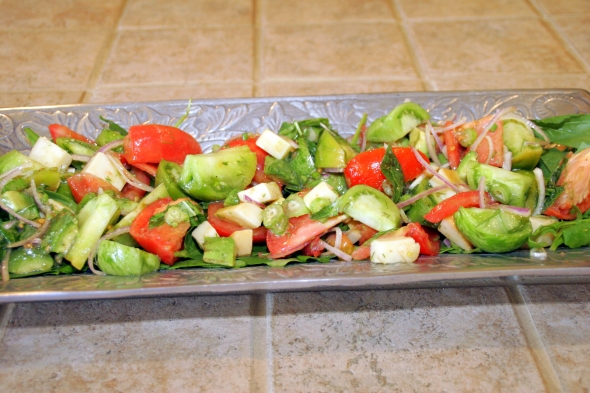 Heirloom Tomato Salad
I love all of the bright colors of heirloom tomatoes: yellow, green, red, and orange. This salad is a great breakfast or lunch meal.
Ingredients
6 heirloom tomatoes of your choice sliced in quarters
4 oz of smoked mozzarella cheese, cubed
1/3 cup fennel stalk, thinly sliced
1/3 cup of red onion, thinly sliced
1/3 cup fresh basil, coarsely chopped
1 ripe avocado, seeded and cubed
1 tablespoon red wine vinegar
2 tablespoons extra virgin olive oil
Fresh ground sea salt and pepper to taste
Preparation
Toss tomatoes, mozzarella cheese, fennel, red onion, and basil in a bowl. Add avocados, red wine vinegar, and olive oil and toss gently. Generously Season with salt and pepper to taste.
Serves 4
Download Recipe (PDF)