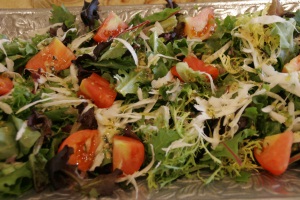 Mixed Greens Salad 3 Ways
This is a quick and easy salad that I make often. The taste is wonderful all three ways. Tomatoes for a traditional salad, oranges for a refreshing sweet taste, and roasted beets for an earthy flavor.
Ingredients
5 large handfuls of mixed greens
1 tablespoon shallot or red onion, very finely minced
1 tablespoon fennel stalk, minced
1 small parsnip, skins peeled, then shaved with a vegetable peeler
3 medium tomatoes, sliced in wedges
Or
3 medium oranges, peeled and sliced in wedges
Or
3 medium red beets, roasted, peeled and sliced in wedges
1 ripe avocado, halved then thinly sliced optional
Tarragon Mustard Vinaigrette- See recipe
Preparation
Toss mixed greens, shallot, fennel, and parsnip in a salad bowl or platter. Add your choice of tomatoes, oranges, or beets. Toss with Tarragon Mustard Vinaigrette Dressing. Top with arranged avocado slices.
*Salad may be tossed one day ahead. Add the tomatoes, oranges, or beets closer to serving time. Add the dressing and avocado slices just before serving.
*When shaving the parsnip with the vegetable peeler you may only be able to peel about half of it. Save the remaining part to slice for another use.
Serves 4
Download Recipe (PDF)