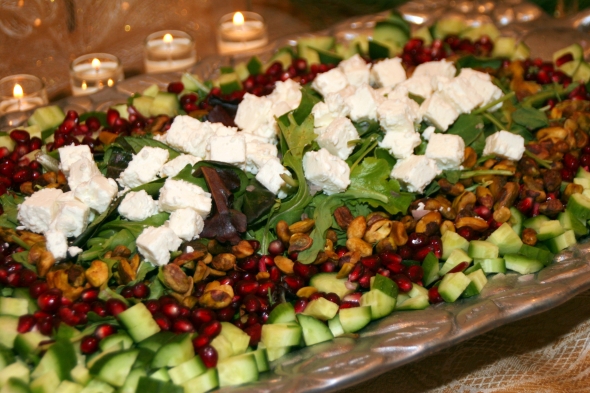 Pomegranate Salad
Pomegranates are rich in antioxidants and good for your heart. This crisp, sweet and tangy salad is a good way to incorporate this ancient exotic fruit in your diet.
Ingredients
Salad
5 large handfuls baby mixed greens, especially baby arugula
1 small shallot, finely minced (about 1 tablespoon)
1 persian cucumber, finely diced (about ½ cup)
1 cup pomegranate seeds (from about 2 medium sized pomegranates)
½ cup french feta cheese, diced
¼ cup shelled pistachios, toasted
Pomegranate Dressing
½ cup extra virgin olive oil
½ cup pomegranate molasses
2 tablespoons honey
1 tablespoon red wine vinegar
1 tablespoon fresh lemon juice
sea salt and fresh ground pepper to taste
Preparation
Toss mixed greens, shallots, cucumbers, and pomegranate seeds in a salad bowl. Top with feta cheese and toasted pistachios. Set aside.
Mix pomegranate molasses, honey, red wine vinegar, and lemon juice in a small mixing bowl. Slowly whisk in the olive oil until thoroughly blended and smooth. Season with salt and pepper to taste.
Toss salad with desired amount of dressing and serve immediately.
Serves 4
* For large dinner parties, toss greens and shallots in a large serving platter, use desired amount of cucumbers, pomegranates, and pistachios stacking in separate rows around the platter. Center with desired amount of cubed feta cheese. Double the pomegranate dressing and serve on the side. This will make an eye catching presentation.
*Pomegranate molasses, also called pomegranate syrup is a traditional Middle Eastern condiment made of pomegranate juice, lemon and sugar. You can find it at most specialty, Middle Eastern, and Asian Markets.
Download Recipe (PDF)