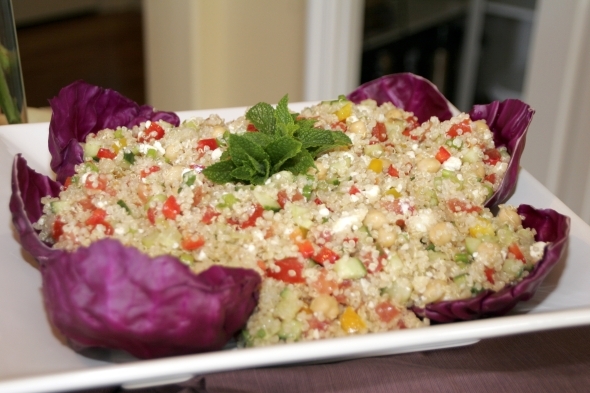 Quinoa Salad
Quinoa pronounced (Keen-wah) resembles a grain but is really a seed of a leafy plant. It contains almost a perfect balance of the eight essential amino acids and is high in protein, calcium, and iron. This is a nutritious light and tasty salad to snack on any time of day.
Ingredients
2 cups uncooked Quinoa, rinsed
4 cups water
1 cup finely chopped scallions, green and white parts (about 7-8 scallions)
1 ½ cups finely diced red bell peppers ( about 2 bell peppers)
3 cups finely diced cucumbers (Persian or English Cucumber recommended)
1 ½ cups firm tomatoes, finely diced (about 3 tomatoes)
1 15 oz can garbanzo beans, drained and rinsed
6 oz feta cheese, crumbled (preferably French Feta)
1 ½ teaspoons salt
1 teaspoon black pepper
½ cup extra virgin olive oil
¼ cup + 2 tablespoons fresh lemon juice
Preparation
Bring 4 cups water to a boil in a medium to large pot. Add Quinoa, cover and boil until water has absorbed, about 10- 12 minutes. Fluff with a fork, remove from heat and cover for 15 minutes. Uncover and allow quinoa to cool. This will yield about 6 cups of cooked quinoa. Set aside.
Combine scallions, cucumbers, bell peppers, tomatoes, and garbanzo beans in a large bowl. Add cooled quinoa, salt, pepper, olive oil, lemon and toss. Add feta cheese and gently toss. Refrigerate until cold.
Makes 6-8 servings
Download Recipe (PDF)