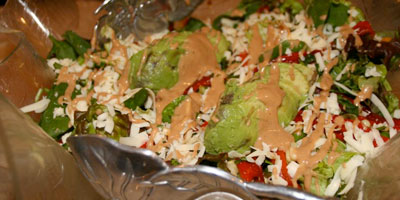 Southwestern Salad
This tasty and colorful salad is a great accompaniment a Mexican style themed meal.
Ingredients
8 oz baby spinach or regular spinach, coarsely chopped
½ head of red romaine lettuce, coarsely chopped
2 tablespoons fresh basil, coarsely chopped
1 tablespoon cilantro, finely chopped
½ cup red cabbage, thinly sliced
3 green onions, finely chopped
8 oz canned or fresh black beans, drained
½ cup fresh corn (from 1ear)
1 roasted red bell pepper, peeled seeded and sliced
1 avocado, sliced
½ cup Monterey jack cheese, shredded
Grilled chicken (optional)

Dressing
1/2 cup Ranch Dressing
1/2 cup Barbeque Sauce
Preparation
Mix spinach, lettuce, basil, cilantro, cabbage, onions, beans, and corn in a bowl. Top with red bell pepper and avocado slices and sprinkle with cheese. Serve dressing on the side.
*You can prepare everything a day ahead except for slicing and adding the avocado slices before serving.
Serves 4
Download Recipe (PDF)