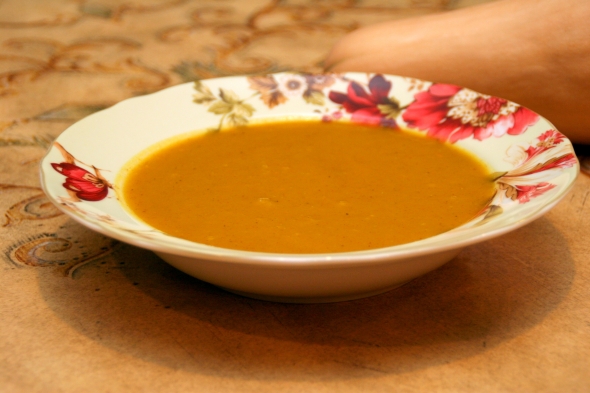 Spiced Butternut Squash Soup
My absolute favorite squash! A good source of vitamin C, fiber, magnesium, and potassium butternut squash has yellow skin and orange fleshy pulp. When ripe it turns increasingly orange and sweeter in taste. The hardest part about making this soup is peeling and cutting the squash. Once you've accomplished that the rest is easy! Enjoy this soup on a cool autumn day.
Ingredients
2 ½ pounds Butternut Squash, peeled, seeded and cut into 1 inch cubes
5 tablespoons extra virgin olive oil
1 large white onion, chopped
2 garlic cloves, chopped
2 teaspoons curry
½ teaspoon coriander
½ teaspoon cumin
¼ teaspoon cinnamon
1 1/2 teaspoons salt, or to taste
1 bay leave
7 cups (or more) homemade chicken broth, low sodium chicken broth, or vegetable broth
2 teaspoons grated orange peel
2 tablespoons heavy whipping cream (optional)
Preparation
Heat oil in a large cast iron or heavy large pot over medium-high heat. Add onions and a pinch of salt; saute until translucent and tender, about 7-10 minutes. Add garlic and saute 1 minute longer. Add curry, coriander, cumin, and cinnamon and saute 1 minute. Add butternut squash and saute 1 minute longer. Add chicken broth and bay leave and bring to a boil. Reduce heat; cover and simmer until squash is tender, about 30 minutes. Remove from heat and cool slightly. Discard bay leave.
Puree mixture with a hand held blender until smooth. Gently bring soup back to a low simmer. Thin the soup with additional chicken broth to preferred consistency, if needed. If using low sodium chicken broth add 1 1/2 teaspoons salt. If not, add salt to taste. Stir in grated orange peel. Stir in heavy whipping cream if desired. Serve immediately.
Makes 4-6 servings
Download Recipe (PDF)