I love Spring! Soon I will be planting my vegetable garden and embracing the new season. Meanwhile, I am putting the finishing touches on my latest recipes that I will be sharing for Easter.
While visiting the grocery store I chose popular seasonal vegetables that are readily available and put this beautiful salad together.
There are no set rules for the ingredient amounts. You can make the salad as small or large as you would like. For an eye catching presentation, I suggest using a serving platter instead of a bowl.
This recipe calls for heirloom carrots which usually come in purple, yellow, orange and red colors. You will also see heirloom tomatoes in stores and Farmers Markets.
The carrots, zucchini, asparagus and peas require a quick blanch. The process slightly cooks the vegetables yet keeps them nice and crisp.
If you are unfamiliar with Sunflower Sprouts they have a nutty taste and are packed with nutrition.
The creamy dressing is prepared with fragrant herbs, yogurt and garlic for a kick. The recipe amount will serve 6-8. Double the recipe if you are feeding a large crowd.
I hope this salad will be a hit for your Easter brunch celebrations! Enjoy!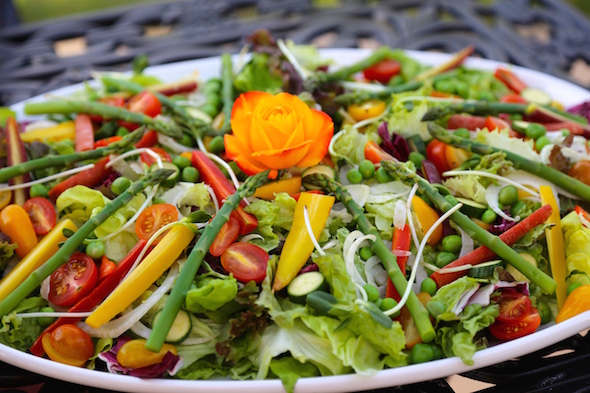 Spring Vegetable Salad with Yogurt Herb Dressing
Welcome the exciting flavors and beautiful colors of Spring with this vibrant salad!
Ingredients
Butter Lettuce, torn into pieces
Red Leaf Lettuce, torn into pieces
Radicchio, halved then chopped into 1-inch pieces
Fennel Bulb, thinly sliced
Heirloom Carrots, ends trimmed (skins on)
Asparagus, ends trimmed
Baby Zucchini, ends trimmed
Fresh Peas, shelled
Heirloom Grape or Cherry Tomatoes, halved
Sunflower Sprouts
Salt
Garnish
Edible or Organic Flowers -optional

Yogurt Herb Dressing

1 Garlic Clove
2 tablespoons chopped fresh Chives
¼ cup chopped fresh Dill
2 tablespoons fresh Lemon Juice
1 teaspoon White Wine Vinegar
½ cup Whole Plain or Greek Yogurt
2.5 ounces French Feta Cheese
¾ cup Extra Virgin Olive Oil
Fresh ground Black Pepper to taste
Special Equipment
Food Processor
Preparation
Heat large pot of water with a pinch of salt and bring to a boil.
Fill a large bowl with water and ice cubes.
Blanch carrots for 2 minutes in boiling water, transfer to bowl of ice water using tongs or a slotted spoon. When carrots have cooled down completely, remove from bowl of ice water and set aside. Repeat process with zucchini, asparagus and peas and set aside separately. Vegetables should be slightly cooked yet crisp.
Cut carrots into medium size sticks, set aside. Slice zucchini.
Toss butter lettuce, red leaf lettuce, radicchio and fennel in a large serving platter or bowl. Top with carrots, tomatoes, zucchini, peas, asparagus and sunflower sprouts. Garnish with fresh flowers.
Prepare Dressing: Pulse garlic in a food processor. Add chives and dill and pulse. Add lemon juice, white wine vinegar, yogurt, and feta cheese, blend until combined. While machine is running add olive oil until incorporated and smooth. Add black pepper to taste.
Dressing will serve 6-8
*Dressing will thicken after refrigeration. If prepared ahead of time bring to room temperature before serving or thin with a little EVOO.
Download Recipe (PDF)