Strawberries make a wonderful addition to this refreshing salad. The ingredients are simple and you can toss the salad together in minutes. Just combine your favorite mixed greens; I used a variety of artisan greens, spinach and fresh basil for an aromatic taste; with sliced red onion, cucumber and quartered strawberries (fraises are a good choice). Finally, add creamy avocado slices for a finishing touch. The Tarragon Mustard Vinaigrette dressing is one that I use often for many salad combinations. It's herby and slightly tangy flavor completes this salad and makes a pleasantly savory addition. Enjoy!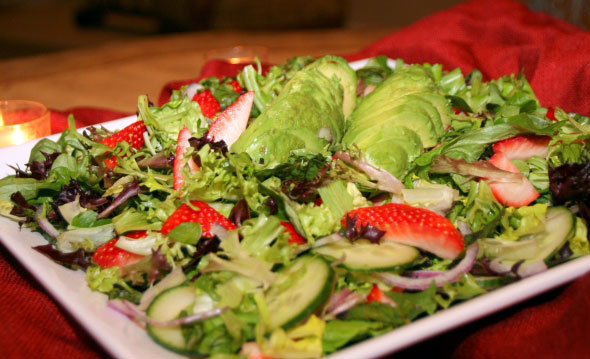 Strawberry Salad
Strawberries are a popular fruit that make a refreshing addition to this simple mixed green salad. The Tarragon Mustard Vinaigrette is pleasingly complimenting and creates an unexpected savory flavor!
Ingredients
5-6 large handfuls Mixed Greens (about 9-10 oz)
½ cup chopped fresh Basil (about 1.5 oz)
½ cup very thinly sliced Red Onion (about ¼ onion)
1 cup thinly sliced Cucumber, about 5 oz (English or Persian Cucumber recommended)
12 large Strawberries, tops removed, quartered (about 10 oz)
1 large firm ripe Avocado, halved lengthwise, pitted, then sliced
Dressing
Tarragon Mustard Vinaigrette –see recipe
Preparation
Toss mixed greens, basil, red onion, cucumbers and strawberries in a large bowl or platter. Fan sliced avocado on top of salad. Serve with Tarragon Mustard Vinaigrette.
Serves 4-6
Download Recipe (PDF)