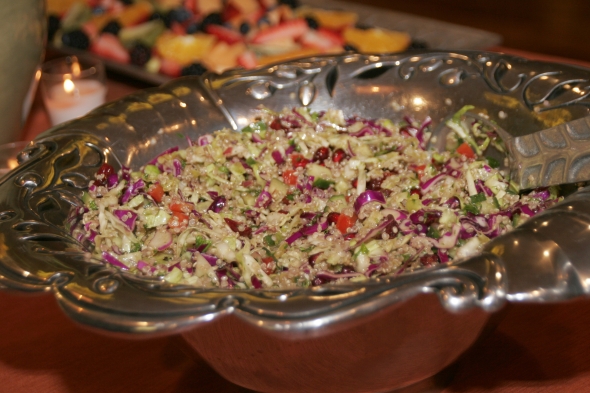 Sweet and Tangy Cabbage Quinoa Salad
This refreshing salad has a perfect balance of sweet, tang, and crunch with a hint of fresh herbs and healthy quinoa. It makes a great appetizer salad and a colorful side dish.
Ingredients
3 cups cooked quinoa
6 cups thinly sliced red cabbage (about ½ medium head)
6 cups thinly sliced green cabbage (about ½ medium head)
½ cup red onion, very finely chopped
3 cups Persian or English cucumber, finely diced
¾ cup red bell pepper, very finely chopped (about ½ a bell pepper)
½ cup pomegranate seeds
¾ cup dried cranberries
½ cup packed finely chopped curly parsley
2 tablespoons packed finely chopped cilantro
1 tablespoon packed finely chopped fresh mint
Dressing
½ cup extra virgin olive oil
¼ cup red wine vinegar
¼ cup fresh lemon juice, (about 2 lemons)
2 tablespoons balsamic vinegar
1 ½ teaspoons salt
½ teaspoon black pepper

Preparation
Toss all ingredients in a very large mixing bowl. Add all dressing ingredients and combine thoroughly. Cover and refrigerate for 1 hour (up to 2 hours) to allow flavors to come together.
*Ingredients could be combined 1 day before. Add dressing ingredients, cover and refrigerate up to two hours before serving.
*1 cup uncooked quinoa yields to about 4 cups cooked.
Download Recipe (PDF)