A friend of mine recently vacationed with his family in Egypt. While traveling they enjoyed a delicious lentil soup. When he returned he asked me if I knew the recipe and described it as a slightly sweet tasting soup. I quickly called my Egyptian family friend and she shared her version of the traditional Egyptian soup that I've made several times ever since. It is super easy to make and involves a few simple steps. I thought it was a great recipe to share around this time of year as many of you may be fasting during the lent season. Lentils are an excellent source of protein and a great choice for a vegetarian diet. This version is made with chicken broth but can be substituted for vegetable broth. I don't know whether my recipe compares to the soup he had and I'm sure that there are many versions of it, but I know this one will be a common favorite in my kitchen!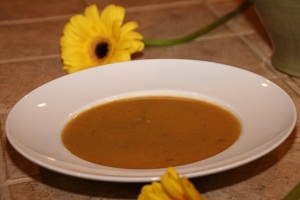 Sweet Potato Lentil Soup
Sweet potatoes and carrots add a subtle sweetness to this pureed lentil soup. The added sautéed onion topping takes it up a notch leaving you to appreciate the good simple flavors of this easy to make soup.
Ingredients
8 cups homemade or low-sodium chicken broth (may substitute with vegetable broth)
1 ½ cups red lentils, rinsed in several changes of cold water until water runs clear
1 large white onion, peeled and cubed
2 medium sweet potatoes, peeled and cut into 1x1 inch cubes (about 14-16 ounces)
2 medium carrots, peeled and sliced
4 garlic cloves, sliced
2 teaspoons ground cumin
salt and pepper to taste
Topping
½ large white onion, finely chopped
1 tablespoon unsalted butter
Preparation
In a large pot combine chicken broth, lentils, onion, sweet potatoes, carrots and garlic. Cover and bring to a boil then reduce to a medium simmer until potatoes and carrots are very tender and lentils expand, about 20-25 minutes.
Prepare the topping while soup is cooking: Heat 1 tablespoon unsalted butter in a medium pan, add the chopped onions and sprinkle lightly with salt. Sauté on medium high heat until onions are lightly browned and softened, adding additional butter if needed. Watch closely to prevent onions from over browning. Set aside.
Remove pot of soup from heat and puree mixture with a hand blender until very smooth. Bring soup back to a low simmer and stir in cumin. Add salt and pepper to taste. Stir in onion topping and serve.
Serves 4-6
*If soup appears to be a thin consistency note that it will thicken as it sits.
Download Recipe (PDF)