I love Tabouli! One of my most favorite salads, Tabouli is healthy, refreshing and absolutely addicting! The basis of this classic Middle Eastern salad is parsley; an herb that is loaded with nutrients that are important for the prevention of many diseases. The two main types of parsley are curly and Italian flat leaf parsley. You can use either one for this recipe. I like to mix the two together.
I suggest hand chopping the parsley. The consistency tends to be better. However, it requires some time, so another option is to use a food processor. Be sure to slowly pulse the parsley to prevent it from getting too fine and soggy.
In addition to parsley, there are delicious chopped veggies in this Tabouli; tomatoes, green onions, cucumbers and a hint of jalapeno. You can use chopped red onions instead of green and green bell pepper instead of jalapeno. They both add delicious flavor and compliment this salad well.
The dressing is sour with a lightly spiced aftertaste. I use dried mint in this recipe. If you prefer to use fresh mint, substitute with a small bunch. You will love this juicy salad and will it enjoy it more with a side of Hummus. The two should be inseparable! Along with warmed Pita bread, it makes a perfect sandwich. If you really must do without the hummus, roll the Tabouli in romaine, iceberg or butter lettuce.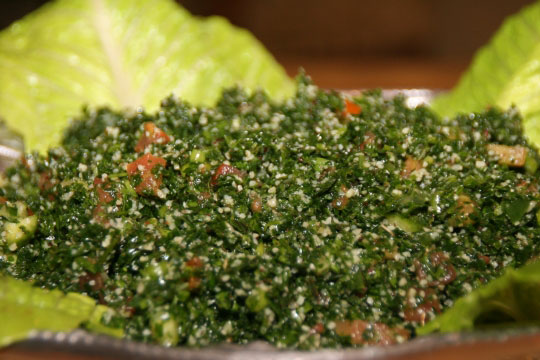 Tabouli
I can eat Tabouli every day! It is super healthy and tastes great with a side of Hummus and warmed pita bread.
Ingredients
8 cups (packed) fresh Parsley, stems removed, finely chopped (About 12 bunches)
¾ cup Green Onion, finely chopped, white and green parts (about 1 bunch)
4 cups firm Roma Tomatoes, finely diced (about 6-8 tomatoes)
1 ½ cups Persian Cucumbers, finely diced (about 2-3 cucumbers)
¼ cup jalapeno, seeded and finely chopped (about 1-2 jalapenos)
½ cup fine Bulgur (#1)
1 and ¾ cup Warm Water
Dressing
2 tablespoons finely crushed Dried Mint
2 tablespoons Sumac
2 teaspoons Salt
1/2 teaspoon Cayenne Pepper
¾ cup Fresh Lemon Juice
¾ cup Extra Virgin Olive Oil

Optional
Drizzle of Pomegranate Molasses
or
Dash of Cinnamon
Garnish
Romaine Lettuce
Preparation
In a small bowl, soak bulgur in warm water and set aside for about 10 minutes or until bulgur has expanded and softened.
Mix parsley, onions, tomatoes, jalapenos and cucumbers in a large bowl.
In small bunches squeeze out the water of the bulgur with your hands and add to the Tabouli. Add mint, sumac, salt, cayenne pepper, olive oil and lemon juice, mix well, garnish with romaine lettuce and serve.
*Optional- Lightly drizzle Tabouli with Pomegranate Molasses for extra tang or add a dash of Cinnamon for a bittersweet spiced surprise.
*You can mix the parsley, onions, cucumbers, jalapenos and bulgur one day ahead. Dice tomatoes and store in a separate bowl. Mix all ingredients for the dressing in a separate bowl. Toss all ingredients together and serve.
Serves 6-8
Download Recipe (PDF)