This is one of my favorite dressings to make. It always comes in handy for a quick and easy dressing that I can whisk together in minutes. You most likely have all the ingredients on hand except for dried tarragon. I am always sure to have plenty of it in my stash of dried herbs. It compliments dressings, fish and chicken very nicely. For some reason the dried tarragon from Middle Eastern Markets taste much better, so you have a chance to visit the nearest Ethnic Food Market look for this herb, it will become a regularly used ingredient, mostly because you will make this tasty vinaigrette often! Try it with your favorite salad combinations; it especially compliments mixed green salads with beets or tomatoes.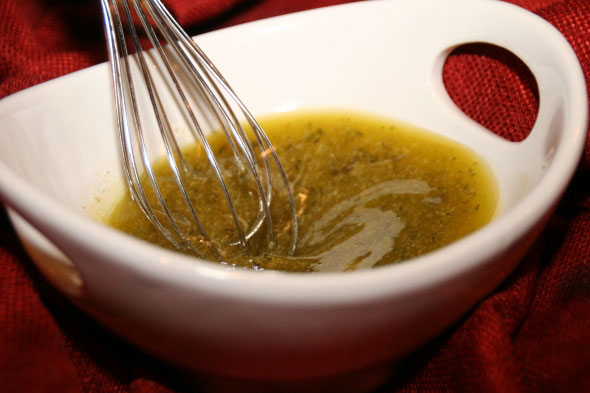 Tarragon Mustard Vinaigrette
Making your own salad dressing is as easy as whisking these 6 ingredients together. The Dijon mustard and dried tarragon flavors make a hearty tasting dressing that will excite a number of salad combinations!
Ingredients

½ cup Extra Virgin Olive Oil
1 tablespoon White Wine Vinegar
2 teaspoons Dijon mustard
1 teaspoon dried Tarragon, crushed
Freshly ground Sea Salt and Black Pepper to taste
Preparation
Mix olive oil, vinegar, and tarragon in a small bowl. Whisk in mustard and season with salt and pepper to taste.
Download Recipe (PDF)