It's cold outside and we all want something warm and filling in our tummies! How about Vegetarian Bean Chili? This hearty and easy to make chili requires no beef and is a great to make if you are trying to minimize your intake of red meat. The beans will fill you up and are an excellent source of fiber, protein and essential vitamins. Even though this recipe calls for canned beans, it is best to prepare dried beans, however soaking and boiling dry beans may take more time than your schedule allows. If you're going to use canned I recommend sticking to low-sodium and rinsing the beans well before using. Don't be afraid to turn the spice up a notch to your liking and the toppings on this chili are a must! The combination of the creamy avocados, melting cheese, cool sour cream along with the sharp flavors of the cilantro and red onion really complete this winter comfort food dish!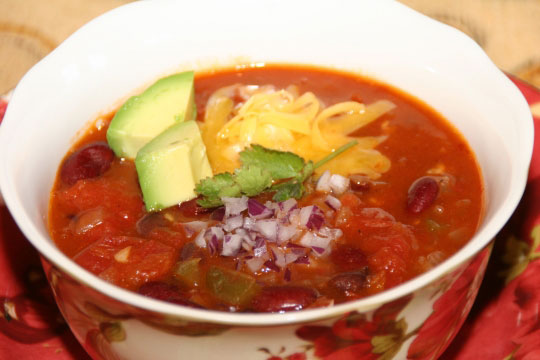 Vegetarian Bean Chili
Need a little warming up? This hearty vegetarian bean chili will comfort you on any cold day. The toppings are a must atop of this mildly spiced chili! Feel free to turn the spice up a notch if you prefer.
Ingredients
5 tablespoons extra virgin olive oil
1 white onion, finely chopped (about 2 cups)
1 green bell pepper, finely chopped (about 1 cup)
1 jalapeno, seeded and finely chopped (about 1 tablespoon)
3 garlic cloves, finely chopped (about 1 tablespoon)
6 oz. tomato paste
2 tomatoes on the vine, diced (about 1 cup)
3 (14.5oz) canned diced tomatoes with their juices
2 cups vegetable broth
1 (15oz) can kidney beans, rinsed and drained
1 (15oz) can black beans, rinsed and drained
1 teaspoon chili powder
1 teaspoon cumin
½ teaspoon coriander
1 teaspoon salt + additional
1 teaspoon black pepper
Toppings
Avocado, cubed
Red onion, finely chopped
Shredded Cheddar Cheese
Sour cream
Cilantro Sprigs
Preparation
Heat olive oil in a heavy large pot over medium-high heat. Add onion and bell pepper; lightly sprinkle with salt and sauté until softened, about 10 minutes. Add garlic and jalapeno, sauté 1 minute longer. Add cumin, coriander, chili powder and tomato paste, sauté 1 minute longer. Add canned tomatoes with their juices, tomatoes, vegetable broth, kidney beans and black beans, stir until combined. Bring to a boil then reduce heat to a medium-low simmer until chili thickens, stirring occasionally, about 20 minutes. Stir in salt and pepper.
Ladle chili in bowls. Top with avocado, red onion, cheddar cheese, sour cream and cilantro sprigs.
Serves 4-6
Download Recipe (PDF)