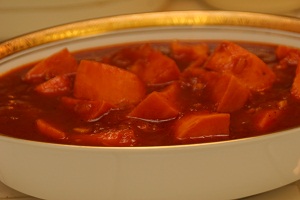 Yam Stew
This deliciously savory and mildly sweet Yam stew is a perfect dish to serve for Thanksgiving. It was created as an alternative to a traditional potato curry stew that my family makes as part of our Thanksgiving dinner. It is a meatless dish that will compliment your holiday ham, turkey, or beef dishes. I also recommend serving it with Yellow Basmati Rice.
Ingredients
4 large Yams, peeled, halved and cut into large cubes (about 2-2 ½ pounds)
7 cups beef broth + additional if needed
1 large white onion, very finely chopped
2 cloves garlic, finely chopped
9 ounces tomato paste
2 cinnamon sticks
6 cloves
2 bay leaves
5 tablespoons extra virgin olive oil
2 teaspoons salt (or to taste depending on beef broth used)
½ teaspoon black pepper
Preparation
Heat 5 tablespoons of extra virgin olive oil in a large cast iron or other large pot on medium- high heat, add onions and sauté until translucent, about 5-7 minutes. Add the garlic and sauté for one minute longer. Add the tomato paste and sauté for one minute longer. Add the Yams and sauté for 3 minutes. Add the beef broth, 2 teaspoons salt, ½ teaspoon pepper, cinnamon sticks, cloves and the bay leaves and bring to a boil. Reduce heat to a low boil partially covered and cook until the yams are just tender and sauce has thickened, adding additional broth if needed and carefully stirring occasionally. About 30-35 minutes. Discard bay leaves, cloves, and cinnamon sticks and serve.
Serves 4-6
Download Recipe (PDF)