Apples and bananas are two popular fruits. Add carrots to the mix and you have a delightful combo! In this smoothie, Granny Smith Apples are used for a sour twist. It starts off with Cashew Milk as the base which adds healthy fat and protein. If you are feeling daring add a half of an avocado for extra nutrition. I've added fresh orange juice to this mix and rotate between using pumpkin spice and cinnamon for a change of flavor.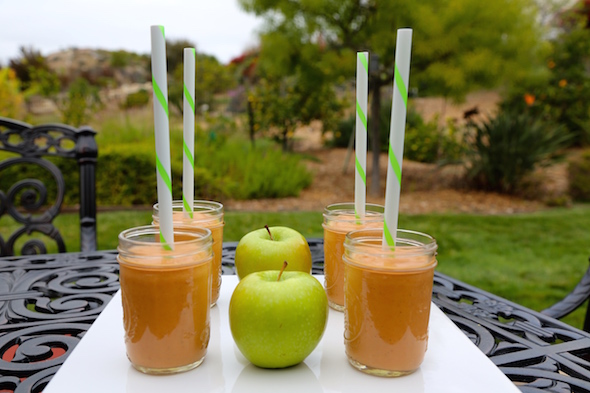 Carrot Apple Delight Smoothie
This perfectly balanced sweet and tart smoothie is surely a delight!
Ingredients
¼ cup raw Cashews
½ cup Water
2 Carrots, peeled and sliced
2 Granny Smith Apples, peeled, cored and cubed
2 ripe Bananas
4 Medjool Dates, pitted
2 teaspoons Pure Vanilla Extract
½ teaspoon Cinnamon
2 cups Ice Cubes
Special Equipment
Powerful Blender
Preparation
Blend cashews and water until cashew milk is formed. Add carrots, apples, bananas, dates, vanilla, cinnamon and ice in that order and blend on high speed until smooth (using tamper if needed). Add additional water for a smoother consistency if preferred.
Serves 2
Download Recipe (PDF)