My Vitamix blender has been my favorite kitchen gadget since I've significantly lowered my intake of gluten, wheat and grains. My morning breakfast frequently starts off with a smoothie or fresh pressed veggie juice.
Smoothies are easy and fun to make. The blender does all of the work for you while you creatively invent delicious smoothies using a variety of ingredients. I've been experimenting with combinations that would surprise you. There are even ways to sneak in veggies like spinach, cucumbers and avocados. This smoothie has two large handfuls of fresh spinach, a great way to get one of the most nutrient dense foods in your diet!
Additional healthy ingredients that you can incorporate in your smoothies besides fruits and veggies are nut milks, raw nuts, nut butters, yogurt, honey, raw cacao, and flaxseeds as well as plant proteins such as hemp and chia seeds. You may not be familiar with all of these ingredients, however I suggest you look them up or check them out at your neighborhood health food stores. I purchase mine from Whole Foods, Harvest Ranch and random stores that sell Raw Food products. You will be impressed to know that plant proteins are packed with loads of vitamins, amino acids, and protein.
This Cherry Almond Dream smoothie is dairy free for those of you that are lactose intolerant or dairy free by choice. I'm huge on shopping for as many organic ingredients as possible. The frozen pitted cherries I use in this recipe are organic and frequently available at my local Costco. When I don't have oranges growing in my garden, the Farmers Market is where I find the sweetest oranges. My favorites are Valencia or Naval for making smoothies and refreshments.
The beauty of it is you can adjust the amounts to your liking and customize your own perfect creation. Now it's time to gather your ingredients so you can enjoy this delightful smoothie!
More smoothie recipes coming soon!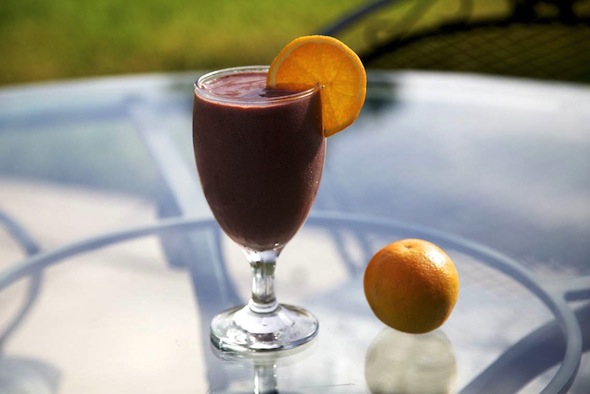 Cherry Almond Dream Smoothie
This refreshing smoothie is perfectly tart and sweet. The flavors come together for a dreamy taste that you will love and the best part is you will pack in nutritious calories!
Ingredients
½ cup freshly squeezed Orange Juice+ additional if needed (about 2 Oranges, Valencia, Naval or other sweet variety recommended)
2 ½ cups frozen pitted Cherries
2 ripe Bananas
1 tablespoon + 1 teaspoon Almond Butter
¼ teaspoon Raw Vanilla Powder or Pure Vanilla extract to taste
1 teaspoon ground Golden Flaxseed, or to taste (optional)
1 teaspoon Chia Seeds, or to taste (optional)
2 cups Spinach Leaves, packed
1 ½ -2 cups Ice Cubes
Special Equipment
Powerful Blender
Preparation
Place orange juice, cherries, bananas, almond butter, vanilla, flaxseed, chia seeds, spinach and ice in that order in a blender and process at high speed until smooth (using tamper if needed). Add additional orange juice and ice if preferred for desired consistency.
Serves 2
Download Recipe (PDF)