If you wake up with a sweet tooth, get ready for a real treat with this rich and cool smoothie that has a surprising kick!
Cacao and dates create a smooth chocolaty texture with a hint of cherry, cinnamon and nutmeg to excite your palate. The surprise is at the end of each sip, a heated aftertaste from a dash of red pepper to awaken your senses. You won't even taste the secret green super food that's blended right in! Who knew chocolate and greens can taste so good?
Feel free to adjust the spices to your liking. I suggest starting with a small amount at first and slowly adding more for your preference. The cherries may be omitted for a sweeter taste. Maca powder goes nicely with this smoothie if you would like to add a nutritional supplement.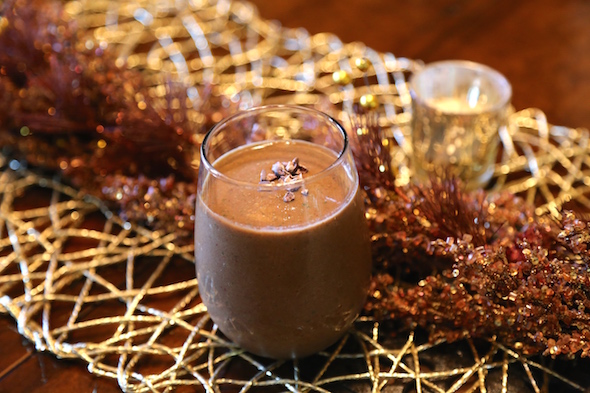 Chocolate Cherry Spice Smoothie
Jumpstart your morning with this rich and cool smoothie that has a surprising kick!
Ingredients
¼ cup raw Almonds, sprouted recommended
¾ cup Water
1 cup frozen pitted Cherries
2 ripe Bananas
6 Medjool Dates, pitted
2 tablespoons raw Cacao
2 teaspoons Pure Vanilla Extract
¼ teaspoon ground Nutmeg
¼ teaspoon ground Cinnamon
1/8 teaspoon ground Red Pepper (Cayenne)
2 cups Spinach leaves or Kale (stems removed), packed
2 cups Ice Cubes
Toppings
Cacao Nibs (optional)
Special Equipment
Powerful Blender
Preparation
Blend almonds and water until almond milk is formed. Add cherries, bananas, dates, cacao, vanilla, nutmeg, cinnamon, red pepper, spinach and ice in that order and process on high speed until smooth (using tamper if needed). Pour into serving glasses and top with cacao nibs.
Serves 2
Download Recipe (PDF)