Chocolate is wonderful and satisfying and there is something even more special about spooning smooth, silky chocolate out of a little ramekin, jar, wine glass or any other cute serving glass you can find in your cupboard.
After the holidays I was planning on steering clear of desserts for a while but Valentine's Day is approaching quickly and we must celebrate with chocolate! We must!
This is by far one of the simplest desserts you can make. It takes minutes to prepare the custard then the refrigerator does the rest. No baking necessary and more time to spend with your loved ones. Win win!
I used a mixture of bittersweet and milk chocolate for a perfect balance. Dark chocolate lovers will be pleased, and keep in mind that the milk chocolate adds necessary sweetness so if you go all dark you will need to add sugar to the milk mixture. (Note: Make sure the sugar dissolves while simmering)
I love chocolate and hazelnut anything. I bought my first bottle of Frangelico, a hazelnut liquor that adds amazing flavor to this chocolate lovers dream. I added a bit more to the whipped cream topping too. You will understand why once you taste it. You will smile and giggle. It's euphoric!
If you'd prefer to skip the Frangelico, you can add your own favorite flavors. Coconut, coffee or almond would taste delicious.
This decadent dessert all comes together once you add the fresh raspberries and toasted chopped hazelnuts. It is worth the trouble to toast and chop the hazelnuts yourself. The biggest challenge is the peeling process, but don't worry I'm always looking out for you! Here is a link that explains how to peel them and its super easy.
I hope you will like this as much as I do. Making something from the heart is the best gift you can give and the icing on the cake is you get to enjoy it too, Better yet; you can make it together for more fun!
Happy Valentine's Season Food Lovers!
P.S I Love Chocolate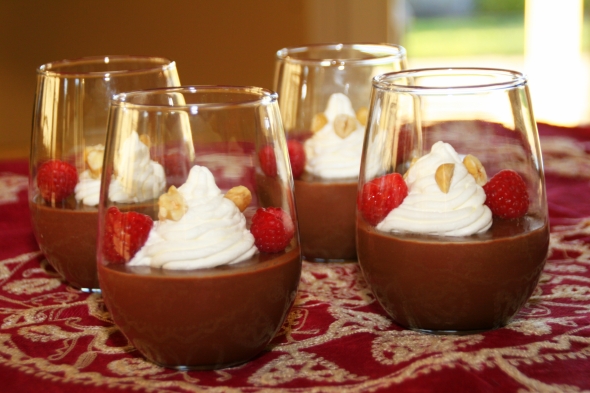 Chocolate Hazelnut Pots De Crème
This is a chocolate lovers dream dessert. Smooth, creamy, silky and decadent.
Ingredients
1 cup Whole Milk
1 cup Heavy Whipping Cream
4 tablespoons Frangelico
1 tablespoon Vanilla Extract
6 large Egg Yolks
1 cup (about 6oz) Bittersweet Chocolate Chips (preferably Ghirardelli or good quality finely chopped bittersweet chocolate)
1 cup (about 6oz) Milk Chocolate Chips (preferably Ghirardelli or good quality finely chopped milk chocolate)
Hazelnut Whipped Cream
1 cup Heavy Whipping Cream
3 tablespoons granulated Sugar
2 tablespoons Frangelico or to taste
Toppings
Fresh Raspberries
Toasted Chopped Hazelnuts
Special Equipment
Large Mesh Strainer
4 Stemless White Wine Glasses or 6 (6oz) Ramekins
Preparation
Whisk egg yolks in a small bowl, set aside.
Stir milk, heavy whipping cream, 4 tablespoons Frangelico and vanilla extract in a saucepan over medium-high heat and bring to a light simmer (about 3-4 minutes).
Immediately and slowly whisk ½ cup of the hot milk mixture with the egg yolks then transfer to the saucepan and continue to whisk on medium- heat until slightly thickened, about 2 minutes (Do not over cook, mixture will begin to curdle). Immediately add the chocolate and remove the saucepan from heat. Whisk until chocolate is completely melted.
In batches, strain mixture through a large mesh strainer into a large glass measuring cup stirring to separate any solids from liquid. Pour strained chocolate mixture to fill one thirds of 4 stemless white wine glasses (may also use ramekins, leaving room for whipped cream topping). Refrigerate until chilled and set, about 4-6 hours or overnight.
Prepare Hazelnut Whipped Cream: Chill the bowl of a stand mixer and the whisk attachment in the freezer for 15 minutes. Add 1-cup heavy whipping cream, 3 tablespoons sugar and 2 tablespoons Frangelico and whisk on high speed until medium peaks form, about 4-5 minutes.
Top chilled Chocolate Pots De Crème with a dollop of hazelnut whipped cream, (option to use a piping bag), raspberries and chopped hazelnuts.
Serves 4-6
Pots De Crème can be stored in refrigerator for up to 3 days