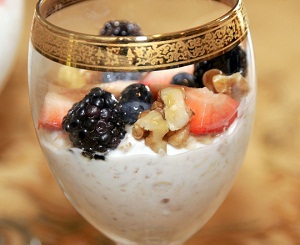 Oatmeal Parfait
If you are frequently on the run and need a breakfast that is healthy and quick, this recipe is a great solution. You actually don't have to cook the oatmeal. Instead the oatmeal softens in the yogurt and milk mixture overnight. All that is left for you to do in the morning is add the toppings. I suggested fresh berries and walnuts in this recipe. I also sometimes add sliced bananas. You can use your favorite fruit combination. The drizzled honey is a must. It's not the hot oatmeal breakfast that you are used to but this cold version makes a delicious oatmeal parfait to get your morning off to a healthy start!
Ingredients
1 cup whole oats
2 cups plain yogurt (preferably Greek or Middle Eastern Yogurt)
1/2 cup milk
Toppings
fresh berries (blackberries, blueberries, sliced strawberries)
chopped walnuts
honey
Preparation
Stir together oats, yogurt and milk until combined. Store in an airtight container and refrigerate overnight.
Remove from refrigerator. Dollop in serving cups and top with fresh berries, chopped walnuts and drizzle with honey.
Note: If mixture is too thick, add a little milk for desired consistency.
Makes 4 servings
Download Recipe (PDF)