It's almost Easter and I am excited to share these beautiful fruit tarts! There is no baking involved in this recipe. These tarts are gluten-free, grain free and vegan. The crust contains a mixture of almonds and pistachios using dates to sweeten and stick together. The custard like filling is prepared in a powerful blender using coconut milk and cashews as a base with honey, hints of vanilla, almond and lemon. The flavors marry together after chilled and topped with your favorite assorted fruit.
I recommend using non-stick tart pans with removable bottoms. Here is a link to the pans that I have from Bed Bath & Beyond, if you use tart pans without removable bottoms you may want to serve the tarts in the pans.
These delectable desserts are best when chilled for 24 plus hours. It allows the filling to set to a thicker consistency and is worth the wait! The tarts are perfect for sharing and it's best to top the tarts with the fresh fruit no more than a few hours before serving.
Serve with your favorite coffee or tea and savor every bite!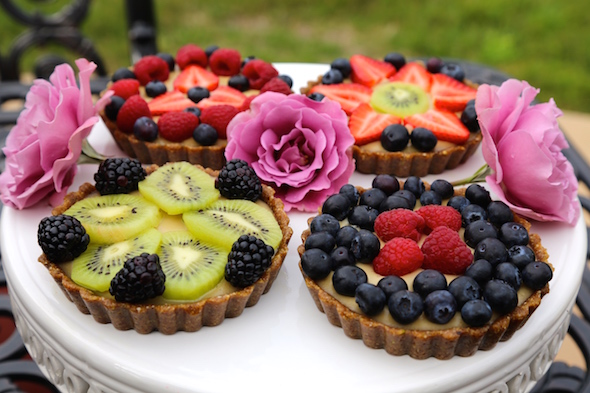 Raw Fruit Tarts
These exquisite tarts are decadent, refreshing and delightful.
Ingredients
Crust
2 cups raw Almonds, sprouted recommended
½ cup raw Pistachios, shelled
¼ teaspoon Sea Salt
14-16 Medjool Dates, pitted
Filling

2 cups raw Cashews
1 13.5 oz can full-fat Coconut Milk, cream only, discard liquid
½ cup Raw Honey
1 tablespoon + 2 teaspoons Vanilla Extract
2 ½ teaspoons Almond Extract
4 teaspoons fresh Lemon Juice
Toppings
Blueberries
Raspberries
Blackberries
Sliced Strawberries
Sliced Kiwis
Special Equipment
6 4-inch tart pans, non-stick with removable bases recommended
Food Processor
Powerful Blender
Preparation
Place almonds, pistachios and ¼ teaspoon salt in a food processor and pulse until finely ground. Gradually add the dates while machine is running. The mixture should easily stick together. Evenly press into the bottom and sides of the tart pans. Place all of the tart pans on a baking tray and refrigerate until firm, about 30 minutes. (Refrigerate until filling is ready)
Place all of the ingredients for the filling in a powerful blender and blend until very smooth, using a tamper if needed. Evenly distribute filling into the chilled crusts (do not over fill) and place back into the refrigerator uncovered. Chill until filling is set, 24-72 hours for best consistency.
Remove tarts from tart pans, keeping bases attached to hold the tart together. Top with desired fruit and serve chilled.
Serves 6-12
Download Recipe (PDF)