Looking for refreshment that is going to help you thru this August summer heat? Talk about heat, I was just in Las Vegas where the temperature was soaring. It was the perfect poolside weather and plenty of water hydration was necessary.
To bring a smile to my face and fit in with the surrounding folks that were sipping on ice cold margaritas and mojitos, I dreamt up my own non-alcoholic, caffeine free drink to enjoy (I promise I'm not a boring person, I just rarely drink alcohol and gave up caffeine over 10 years ago). Despite the bar tender's questionable look as to why I wanted to create my own drink instead of choosing from their menu, the result was perfection.
It went a little something like this…
Lightly muddle fresh mint, sliced strawberries and cucumbers in a glass.
Fill half with lemonade (already sweetened) and fill the remaining with club soda. Pour in a cocktail mixer with crushed ice and shake.
I re-created the recipe at home to share with you in a larger portion size that would work best for a group. The strawberries, cucumbers and mint are not muddled in order to keep the drink pretty and make it easy to strain if anyone doesn't prefer them in their drink. You can serve personal glasses for each's individual liking or follow these exact recipe steps. Feel free to adjust the sweet/tart balance to taste. Do add liquor for your adult pool parties!
Cheers!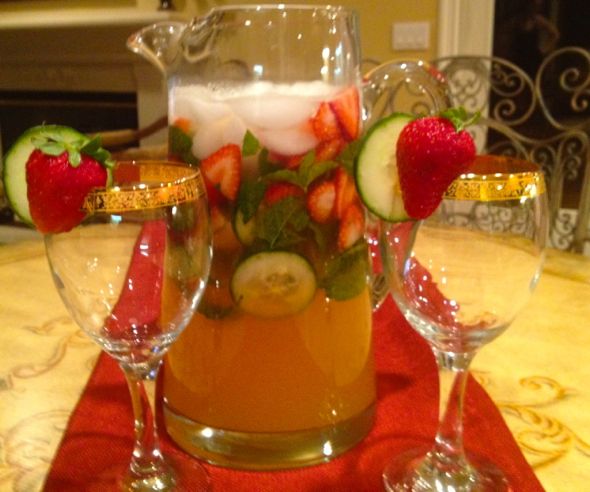 Strawberry Cucumber & Mint Lemonade
Quench your thirst with this delightful and refreshing lemonade. Add in your favorite alcohol for your poolside or summer evening parties!
Ingredients
1 cup Sugar
1 cup Water
2 cups fresh Lemon Juice, strained
1 liter Club Soda
1 cup sliced Strawberries
1 cup sliced Cucumbers
1 cup fresh Mint leaves
3 cups Ice Cubes + additional
Garnish (optional)
Cucumber Slices
Whole Strawberries
Preparation
Prepare Simple Syrup: Combine sugar and water in a saucepan. Place over medium heat until the sugar is completely dissolved, mixing occasionally. Set aside to cool.
Place lemon juice, club soda and cooled syrup in a large pitcher and stir. (Here you can adjust sweet/tart balance to your liking) Add strawberries, cucumbers and mint. Top with ice cubes. Serve over additional ice if desired and garnish glasses with cucumber slices and or strawberries.
Serves 4-6
Download Recipe (PDF)