Did you know that asparagus is one of the top foods that are considered an aphrodisiac? In addition to a long list of health benefits like potassium and fiber, asparagus increases blood flow and may affect your mood for the better! With Valentine's Day around the corner this could be the perfect starter dish to your romantic meal.
The asparagus is prepared to perfection, tender enough to bite into with a light crunch. Its spear shape will make it fun to feed to your significant other. This can definitely bring on some romance. I'm going to stop right there and leave the rest to your imagination 🙂
Now for the tasty Lemon Tarragon Aioli dip that compliments the asparagus so well. If you don't know what Aioli is, it's a fancy name for garlicky mayonnaise. This recipe calls for a little love in making the mayonnaise from scratch. If you've ever tried home made mayo you will understand how much better it tastes than store bought, so much better that you pass by the mayo aisle and never look back. Thankfully the blender makes it almost too easy and fun to make!
Before you run off to the grocery store to buy your ingredients here are a few tips and suggestions…
-Use light oil for the aioli such as olive oil or grapeseed oil. These oils will taste the best.
-Be sure to use fresh pasteurized eggs to avoid food-borne illnesses.
-Use a high performance blender if you can. I have a Vitamix and absolutely love the power.
-You can broil, grill, steam, or sauté the asparagus. Just be sure not to overcook.
I hope you enjoy Valentine's Day with your special someone.
P.S. The way to a man's heart is through his stomach. Word on the street says it's the way to woman's heart too!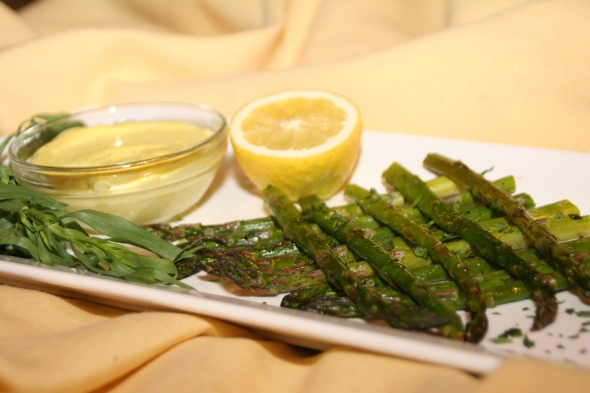 Asparagus with Lemon Tarragon Aioli
This makes a great appetizer or side dish! The Lemon Tarragon Aioli adds exciting flavors to the pungent asparagus spears.
Ingredients
1-2 pounds Asparagus, tough ends removed and peeled if too thick
Olive Oil
Freshly ground Sea Salt and Black Pepper
Lemon Tarragon Aioli
3 large pasteurized Egg Yolks
2 tablespoons fresh squeezed Lemon Juice (about 1 lemon)
2 teaspoons Dijon Mustard
½ teaspoon Salt
¼ teaspoon Black Pepper
½ teaspoon Granulated Sugar
4 teaspoons chopped Tarragon, divided
3 large Garlic cloves, peeled and coarsely chopped
1 cup Olive Oil or as needed
Preparation
Prepare Aioli: Place egg yolks, lemon juice, mustard, salt, pepper, sugar and 2 teaspoons chopped tarragon into a blender (preferably high-performance, Vitamix recommended) and secure lid. Turn on to low speed then quickly increase to a medium-high speed. While machine is running, remove lid plug and drop in garlic through the lid plug opening. Blend for 10 seconds, and then reduce to medium speed. With the machine still running, slowly pour oil in a steady stream through the lid plug opening until emulsified. Transfer aioli to a small bowl and mix in up to two remaining teaspoons of chopped tarragon to taste.
Roast Asparagus: Set the oven to broil with rack in upper thirds.
Place asparagus in a single layer on a large sheet pan, drizzle with olive oil and sprinkle with salt and pepper. Roast until stalks are just tender, about 6-8 minutes depending on thickness.
Serve Asparagus with Lemon Tarragon Aioli on the side.
*Light Olive Oil or Grapeseed Oil may be substituted for Olive Oil