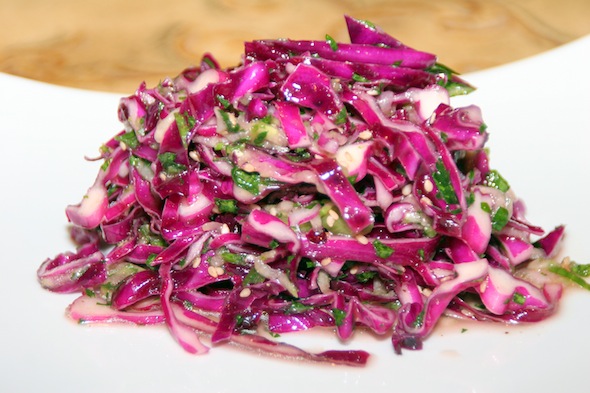 Cucumber Sesame Red Cabbage Slaw
This Asian inspired refreshing cabbage slaw will satisfy your craving for tang and crunch.
Ingredients
2 heads Red Cabbage, halved and thinly sliced
1 cup scallions white and green parts, finely chopped (about 1 bunch)
2 (12 inch long) English Cucumbers, shredded
1 cup Italian Parsley, finely chopped (about 2 bunches)
¼ cup toasted sesame seeds
1 cup Extra Virgin Olive Oil
1 cup Rice Wine Vinegar (unseasoned)
1 tablespoon + ½ teaspoon salt
2 ½ teaspoons black pepper
Preparation
Toss cabbage, onion, cucumber, parsley and sesame seeds in a very large mixing bowl. Add olive oil, rice wine vinegar, salt and pepper and mix well. Cover and refrigerate at least 30 minutes and up to 2 hours.
Serves 6-8
* Shred cucumbers in a food processor using shredding disk for best results.
*Slaw may be prepared one day ahead, cabbage texture will be softer. Drain excess liquid if necessary.
Download Recipe (PDF)