I've been busy in the kitchen creating new recipes for the holiday season and I am very excited to share this one with you all! When I dream up dishes I try to think of amazing flavor combinations using familiar seasonal ingredients that will excite the eyes and palates of my hungry guests!
My inspiration for this recipe came from my love of bread pudding, one of my most favorite desserts. The soft center and wholesome flavors make it the perfect comfort food. Since the holidays are all about feel good food, I thought of this savory version that can be made in fun individualized servings using a muffin pan. They also bake faster so you don't have to wait too long to devour them!
My taste testers were convinced that the recipe contained bacon because of the rich smells of the caramelized onions, garlic and smoked gruyere cheese…I think I fooled them! This bread pudding is meatless and would be a great side to any main dish. I like to purchase a good quality French baguette that is fresh and baked in -house. You can serve these warm or at room temperature and they are sure to be a crowd pleaser at your next holiday meal!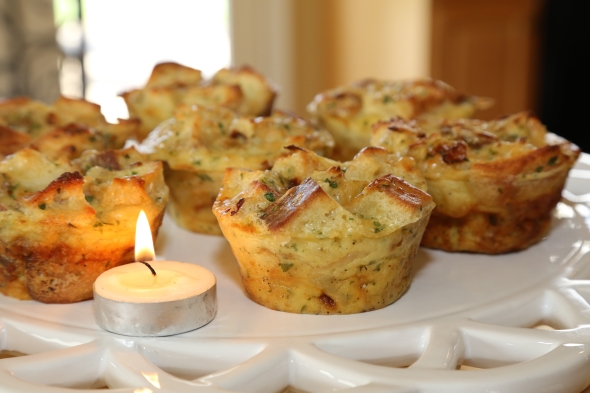 Savory Bread Pudding Rolls
This savory version of bread pudding will make a unique and delicious side addition to your holiday spread!
Ingredients
1 long French Baguette cut into ¾ to 1-inch squares (about 8 cups)
4 large Eggs
1 cup Whole Milk
1 ½ cups Heavy Whipping Cream
1 teaspoon Salt + additional
1 teaspoon freshly ground Black Pepper
¾ teaspoon freshly grated Nutmeg
2 large White Onions, halved and thinly sliced
6 large Garlic cloves, finely minced
1 tablespoon Extra Virgin Olive Oil
2 tablespoons Unsalted Butter + additional for greasing
2 cups grated Smoked Gruyere Cheese
2 tablespoons finely chopped Flat Leaf Parsley
Special Equipment: 12-cup Muffin Pan
Preparation
Preheat oven to 350 degrees with rack in the center. Spread bread cubes on a large baking pan and bake until well toasted but not browned, about 15 minutes. Set aside to cool.
While bread is toasting, heat oil and 2 tablespoons butter in a large skillet on medium-high heat. Add onions and a pinch of salt and sauté until very soft and caramelized, lowering heat to medium about half way through cooking or sooner if they start to brown too quickly, about 20-25 minutes. Add garlic and sauté 2-3 minutes longer. Set aside to cool.
While onions are caramelizing, whisk eggs, milk, heavy whipping cream, salt, black pepper, and nutmeg in a large bowl. Add cooled bread cubes to the mixture to soak for 30 minutes.
Add onion mixture, cheese and parsley to the soaked bread mixture and stir. Grease a 12-cup muffin pan and spoon mixture into muffin cups with bread cubes sticking up. Do not overfill with liquid. Bake until set and firm, about 20 minutes, then set oven to broil for 2-3 minutes longer until tops are golden. Remove and cool for 10 minutes.
Serves 12
Download Recipe (PDF)