Trying to cut down on carbs? Don't fret! There are plenty of foods that will fulfill your appetite. With the help of a food processor or grater, cauliflower will resemble rice when it's grated into small pieces. What's great about cauliflower is that its neutral taste compliments many different flavors. This dish incorporates earthy sun-dried tomatoes and hearty mushrooms for a satisfying and tasty side dish. Enjoy with your favorite protein for a complete meal and feel good about this low carb, gluten free, and paleo choice!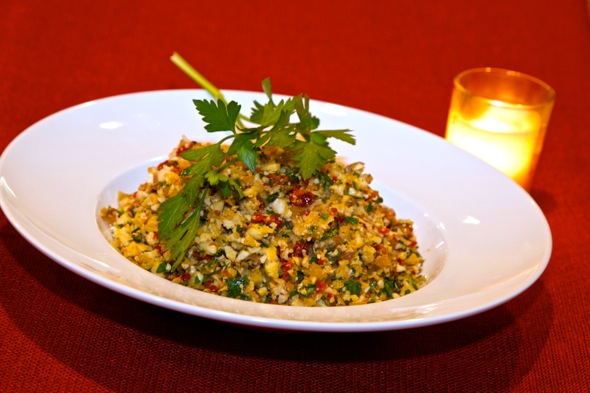 Sun-Dried Tomato and Mushroom Cauliflower Rice
This is a great side to make as a rice substitute. The mushrooms and sun-dried tomatoes add delicious flavor. Enjoy with your choice of protein for a low carb meal.
Ingredients
2 tablespoons Extra Virgin Olive Oil + additional
1 ½ cups finely chopped Red Onion
1 cup finely chopped Fennel Bulb
2 cups finely diced Baby Bella Mushrooms or Mushrooms of your choice
1 tablespoon minced Garlic
1 large Cauliflower, cut into florets
¾ cup very finely chopped Jarred Sun Dried Tomatoes, drained (Julienne Cut in Olive Oil & Italian Herbs recommended)
¾ cup finely chopped Flat Leaf Parsley
Sea Salt and Fresh Ground Pepper to taste
Preparation
In batches, place cauliflower florets into a food processor and pulse until it resembles the texture of rice. (Do not over process to avoid a mushy texture) Reserve 6 cups and set aside.
Heat 2 tablespoons extra virgin olive oil in a large non-stick skillet on medium-high heat. Add onion and fennel, sprinkle with a pinch of salt and sauté until softened, about 5-7 minutes. Add mushrooms and sauté 3-4 minutes or until golden. (Add additional olive oil if needed) Add garlic and sauté a few minutes longer. Add 6 cups of the grated cauliflower and cook until tender, stirring frequently, about 5-7 minutes. Lower heat to medium and add sundried tomatoes sautéing a few minutes longer, stirring well to combine. Remove from heat; add chopped parsley and season with salt and pepper to taste.
Serves 4-6
Download Recipe (PDF)