I love food! The entire process of how food grows, where it comes from, the nutrients it contains, the unique flavors food brings and the different ways food can be prepared are all reasons why it fascinates me. Food is what we all have in common. It's a requirement for survival, it brings us together and it makes us happy! Well, at least I can say so for myself 🙂
Food enthusiasts, chefs, and "foodies" share my appreciation for food and understand that there is more to food besides the taste and texture. Food is also an art and the presentation of food depicts ones reaction. You have probably heard the phrase "If it looks good, it tastes good". I think that's true 90% of the time!
Now, you don't have to spend hours in the kitchen carefully plating your meals. (I do this when I'm entertaining, shhhhh) However, a little extra love and thought into how you stack your breakfast pancakes, pile up your mid-day turkey sandwich, arrange your evening dinner salad and frost your favorite cupcakes won't hurt a bit. It may excite your awaiting eaters, make it more special and put a smile on their faces. P.S, it may even taste better. I know it will 🙂
With that said, here are some helpful tips for food presentation. Remember, don't stress. The kitchen should be an enjoyable place, (your back and feet may hurt at times ha ha) have fun with it and use these tips to get your decorative juices flowing. It could be as simple as fanning sliced avocado on a spinach salad or as big as preparing a holiday roast for the family. Put your creative thinking cap on and let your imagination kick in!
Colors, shapes and sizes play a big role in food presentation. Here is a sample of a fruit tray. Cutting the fruit in different shapes and sizes (ex. triangles, cubes, half moon shaped slices) make each fruit stand out and look pretty. Keep the similar colors away from each other so they don't blend. I arranged my homegrown crenshaw melons in this tray by keeping the peel on and laying them upside down to create a dramatic pattern and different color variation since I already had orange colored cantaloupe and papaya on the plate.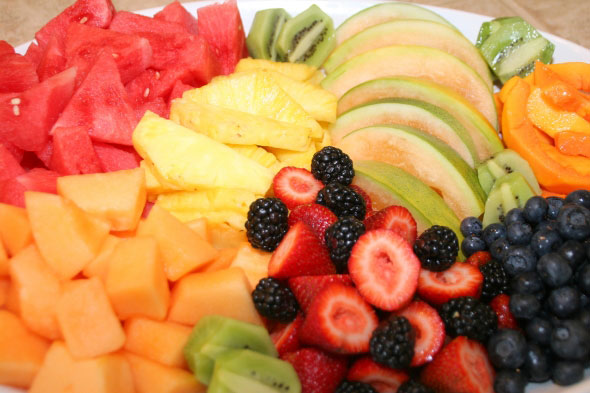 I used the same technique with the salad platter. Notice how I sliced the cucumber diagonally. It easily makes the dish look more elegant. I thinly sliced the bell peppers whole to resemble a windmill shape and laid the tomatoes in different areas on the platter; the yellow fanned on each side, the green sliced in rounds across the top and the small grape tomatoes scattered throughout. Don't spend too much time thinking about every detail of the design. Begin the process with an idea, start somewhere and one thought will lead to another. You may end up changing your mind a few times along the way but overall its best to go with the flow.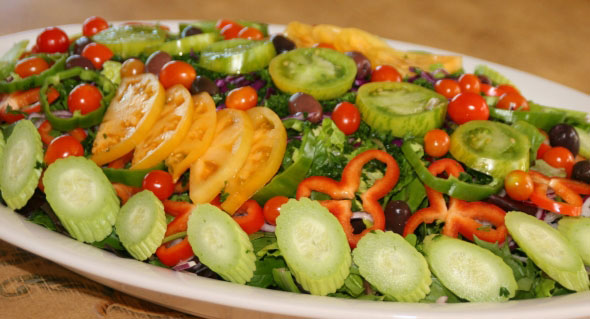 It's important to use the right Kitchen Tools. My Serrated Tomato Knife is the most helpful. I use it to thinly slice cabbage, cut thru tomatoes, peppers as well as other tough or slippery skinned foods making it effortless to get the style and shape that I want.
When arranging a platter, you also want to consider fun and easy ways for your guests to eat the food. I cubed the different flavors of cheese in bite size squares for this meat and cheese platter. I added organic roses from my garden for a beautiful garnish. If you are going to use flowers be sure that they have not been sprayed with any chemicals.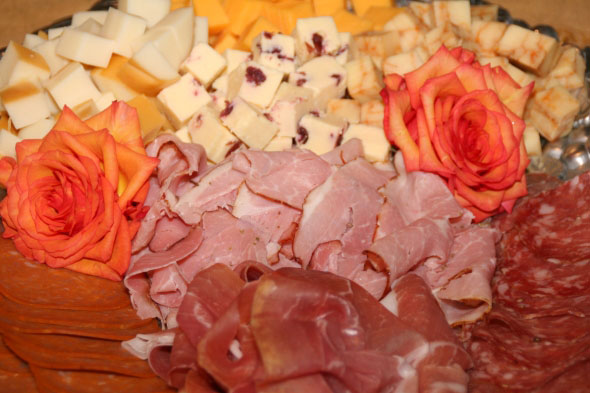 Garnishing is another way to make your dishes look more appealing, enhance the color, and specifically impact the flavor. Common garnishes are fresh herbs, veggies, spices and citrus fruits. This Tuscan White Bean Dip is garnished with fresh italian parsley and sprinkled with cayenne pepper both creating an inviting presentation and complimenting the flavor of the dip.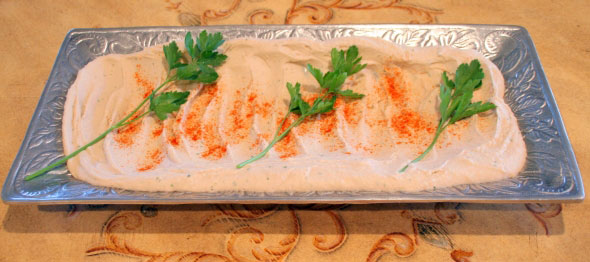 Instead of tossing in the grape tomatoes in this Quinoa Tabbouli, I placed them in a diagonal fashion across the top then used butter lettuce as a garnish on both ends to add a contrasting color and extend the dish.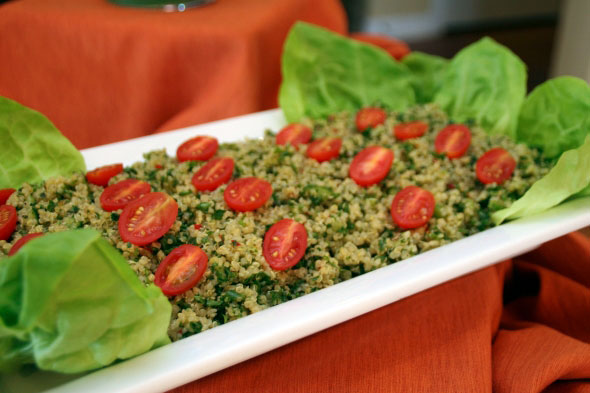 Positioning food in different angles makes a nice presentation and helps differentiate between the different items on the plate. Choose the appropriate plate shape and size for what you are serving to balance the portion sizes and accomplish the right look. This long and narrow serving tray worked well for this bread platter.

The above photographs of food presentation samples can take some time. The good news is they can be prepared earlier or even the day before. For hot dishes that isn't the case. Plan your hot dish plating ahead of time. Other food items or garnishes should not overtake the main item on the dish. Below is a photograph of a Roasted Beef Tenderloin (main entrée), garnished with fried wedge potatoes (complimenting starch, different shape and texture) and fresh rosemary sprigs (adds color and creates a visual for the rosemary flavors that the main entrée was cooked with).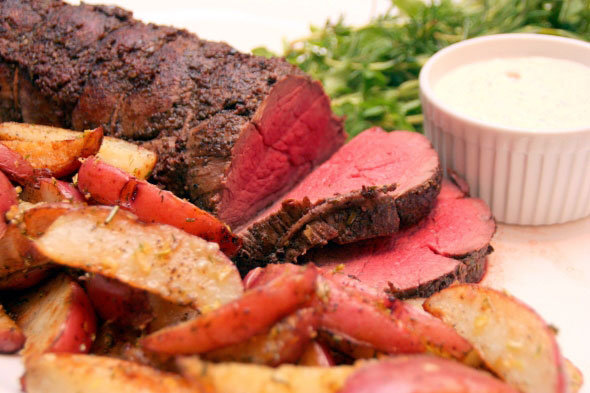 Let's not forget dessert! You don't have to be a professional baker to decorate your favorite cupcakes. A simple ziplock bag will do the trick, however a piping bag will yield to better results and make the experience much more enjoyable.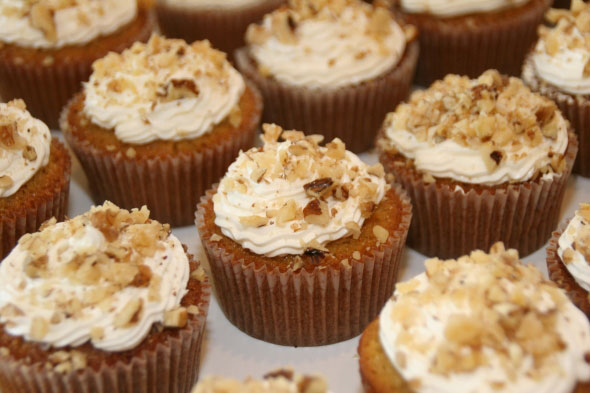 Here is another pretty dish to inspire you…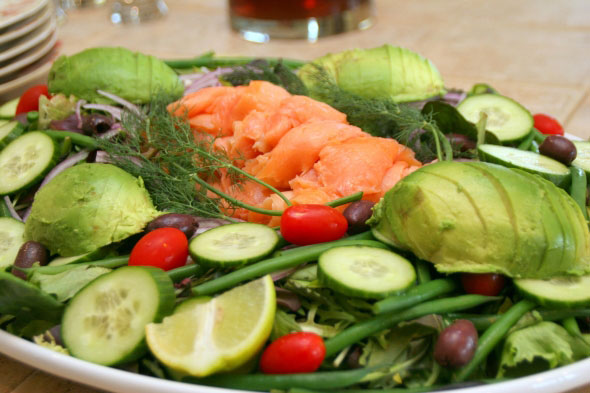 And another...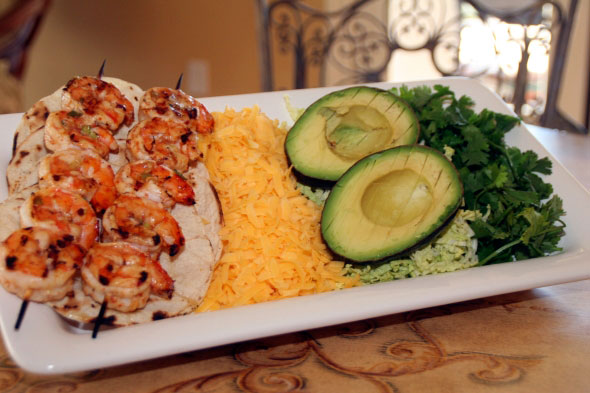 I hope I've given you some good food presentation tips and ideas. Remember you are the artist!