Inspired by the fresh seasonal fruit growing in our backyard this week; I've added two new salad recipes.
Our persimmon fruit tree is one of my favorites. I love the unique flowers the tree produces and enjoy the fall orange color of the persimmons. Native to china, there are many different types of persimmons. We grow Fuyu persimmons which are the most popular persimmon trees grown in the United States. This seedless fruit starts to ripen from October through December and are best to eat when firm.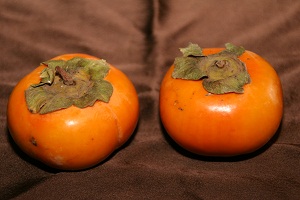 click here to view - Persimmon Salad with Pecans and Feta
Our newest fruit tree of the bunch. This year our young tree produced a small number of delicious pomegranates. This ancient fruit is high in antioxidants, vitamins, and minerals and has been commonly known to fight many illnesses. Even though this fruit requires a little bit of work and a bit of a mess, the sweet and tart seeds are worth the effort!
click here to view - Pomegranate Salad
I've also posted a newer version of a familiar lentil soup that I grew up on. Lentils are a type of legume which is an excellent source of protein and fiber. This soup is a good and healthy choice for any time of day.
click here to view - Lentil Soup


You can never get enough Omega-3 Fatty Acids! I've added a new salmon recipe this week that you will love if you like Sun dried tomatoes. Salmon is quick, easy to prepare and a very healthy protein choice. A great source of Vitamin D, magnesium, B6, and B12 are just a few of the many health benefits.
click here to view - Salmon with Sun-Dried Tomato Sauce