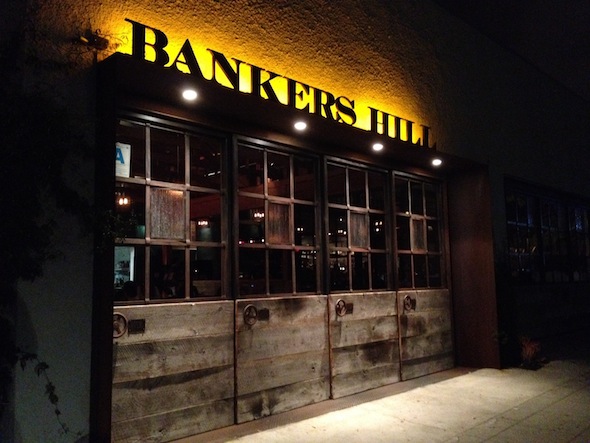 It was love at first bite! After four fantastic visits, Bankers Hill has earned this recommendation by far.
It's not often that you find a place that meets all of your expectations. Bankers Hill is one of those well- rounded restaurants that will entertain a variety of connoisseurs.
Nestled in a quiet part of town, you will feel a great vibe any night of the week. The atmosphere is urban and eclectic, casual and friendly. If your hungry you won't be waiting long, the service is excellent and surprisingly quick considering their top- notch dish creations.
Bring your appetite and get ready to taste some unique flavor combinations. What's different about Banker's Hill is if you're craving something hearty they've got it; just dig in to their Truffled French Fries or Crispy BBQ Braised Pork Tacos. Sounds like a comfort food place right? Yes and No. The versatile food selection accommodates the lighter dish foodies too. The Roasted Beet and Grapefruit Salad is absolute perfection and the Pan Roasted Petrale Sole is impeccable. My latest obsession is the Coriander Spiced Atlantic Salmon. It sits on a posole bean and vegetable tomato based stew with hints of chipotle topped with tangy fennel shavings. Amazing! Hurry in to savor this dish, it's new to the menu and changes seasonally.
The only dessert that I can recommend is the Warm Old Fashioned Buttermilk Donuts with Meyer Lemon Curd. I haven't brought myself to try anything new. Can you blame me? Who can resist warm house-made donuts?
For the best seat in the house, dine out on the heated patio; it's most perfect before sunset.
Bankers Hill
2202 4th Avenue
San Diego, CA 92101
619-231-0222
www.bankershillsd.com